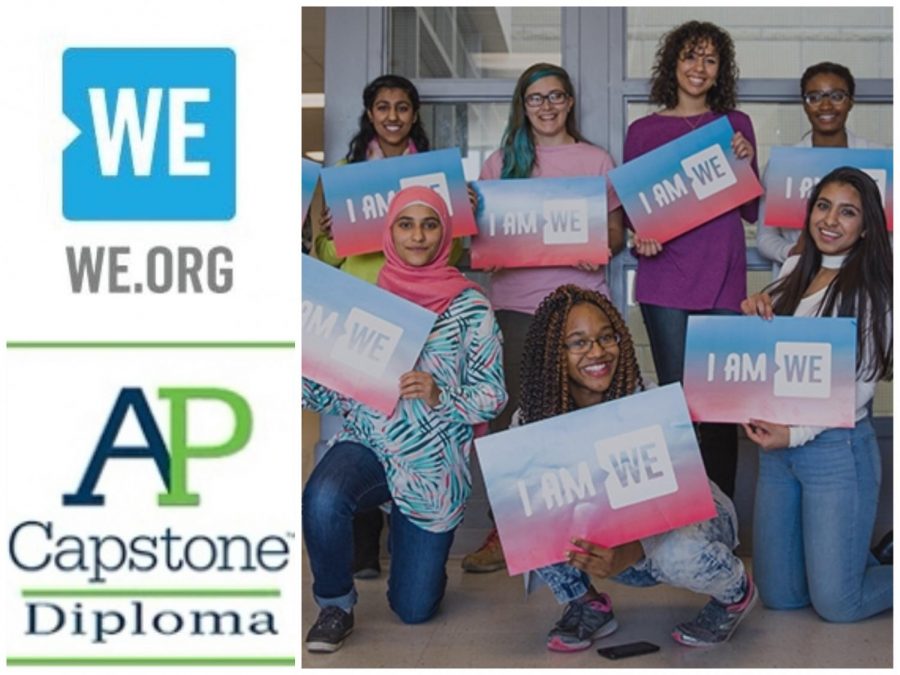 AP Capstone and WE Service (WE.org)
    AP Capstone is a diploma program that's based on two year long AP courses which are AP Seminar and AP Research. The program is focused on developing students' skills in research, analysis, evidence-based arguments, collaboration, writing, and presenting, as stated by The College Board, which is an organization that started this program in 2014. Students also get to conduct their own research study where they add research to a certain field and discipline. The students who complete the two-year program can earn one of two different AP Capstone awards, which are valued by colleges across the United States and around the world. Individuals who are in graduate universities and above tend to complete research studies using the same process that students in in this program do, meaning these students are doing higher level college work. Many students in West Boca High School that participated in the program created their own study and had a chance to get their study published. They even got into one of the top schools in the country. If you would like more information on the program, visit these two videos to learn more: West Boca High School Programs and The AP Capstone Program.
     The AP Capstone Program has aligned with WE Service, formally known as AP with WE Service, which is an "innovative experiential service-learning program that engages students around the world to empower youth with the skills, knowledge and motivation to bring positive change in themselves and the world." It is a form of service learning where students in the Capstone program get a chance to combine college-level learning, like research skills from the Capstone program with WE's service learning model to create an opportunity for AP students to apply their classroom work to the real world. Students get to choose which issue they would like to make a real difference in. 
     Students in West Boca that were a part of the Capstone Program last year decided to research the devastating impact that poverty has on literacy and the long-term implications of this impact. The students implemented "a series of activities to promote lifelong literacy." They partnered with a fourth-grade class from S.D. Spady Elementary School where they had introduced literacy strategies to the children from the school. Some of these strategies they used were serving as pen pals to the elementary school students to encourage reading and writing, writing personalized books for the students, and creating engaging activities aligned with the reading and writing instruction at the elementary school. The West Boca High School students also developed a social media campaign using platforms like Instagram and Facebook to raise awareness of the effects of poverty on literacy and they even managed to raise funds to build a literacy corner for the elementary school. 
   The students part of the project received a major scholarship for college because of the positive change they have influenced in the fourth grade students at S.D Spady Elementary School. The Bullseye staff would also like to congratulate the West Boca students as they had done tremendous work and impacted the lives of many others. 
    Here some of the students who had participated in the project and what they had to say about the project and the program in general:
"AP with WE Service will always have a special place in my heart as this project is much more than just giving back to the community, it brings people together and inspires them to take actions that ultimately make a tremendous change in many lives."   —Lachyn Almazova
"The AP with WE Service project allowed me to make a profound impact in our community and help those in need, creating a fun and unique experience." —Aisha Ansar
"While participating in AP with WE Service this year with my peers in AP Research, all of us collectively had developed a bond amongst ourselves and our wider community of Palm Beach, it became apparent that we were a part of a cause much greater than we originally thought, youth literacy." —Chloe Campton
"The AP with WE Service experience broadened my perspective on how students are able to initiate meaningful change in their communities through collaborative effort and commitment to overcoming real world challenges." —Tyler Jaquays
"The AP with WE Service was such a significant experience, it was a great opportunity to become more aware of the issues in our community and globally, and being able to collaborate with others as a team in order to mitigate these issues made this a rewarding experience." —Nicole Litvinchuk 
"AP with WE Service allowed me to use my AP Capstone skillset and give back to the children in my community. We were able to foster a love for literacy within them, laying the foundation for educational success in the future. This project was incredibly rewarding."  —Ariana Martinez
"My journey with AP with WE Service for the past two years was uplifting, as it allowed me to make a direct impact on my community by not only helping them, but inspiring them to do the same."  —Meenakshi Nambiar
"The AP with WE Service experience was rewarding in the sense that it allowed my peers and I to gain a new perspective on the world around us, while simultaneously developing a profound impact on the children of our community."  —Julia Reale
"Being granted this scholarship has shown me that hard work, determination, and a strong individual and group effort can pay off greatly and I am very thankful to have received this opportunity and recognition."  —Andrew Salk
"In a classroom, students look at issues within a vacuum, however, with AP with WE Service, students are able to apply their knowledge of real-world problems to create practical solutions that help their community."   —Daniel Sanchez
    This project has brought a big change to our community and has affected a great amount of lives. We congratulate and thank each and every student that was a part of the project, and we hope that the bright individuals involved will continue to flourish and impact the lives of many others.