10 Things To Do During Spring Break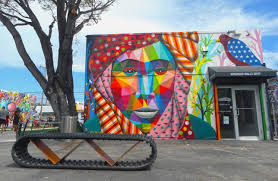 With Spring Break coming up, what's better than a list of fun things to do during your break? If you're sticking around it's beneficial to know that there is a variety of things to do all around our area. Here are 10 fun places and locations to spend your staycation! 
Wynwood Walls | Miami
Wynwood Walls is a unique outdoor destination featuring colorful street murals and the perfect spot for Instagram pictures. You're guaranteed a beautiful view as well as a perfect spot for pictures! 
Color Me Mine | Atlantic Avenue 
Color Me Mine is a place where you can paint your own ceramics! It's a studio filled with different classes, workshops, and special events. It's definitely an amazing place to channel your inner creativity and have FUN!
Go to the beach
Looking for a fun, local, and FREE activity? The beach is the perfect place to really take in your staycation. This is a great place to hang out with friends, swim, and get an amazing tan. 
Rapids | West Palm Beach
You're never too old for a day spent in a lazy river, lap pool, waterslides, and a water playground. Rapids is a perfect way to spend a day of your Spring Break. 
Unicorn Factory | Miami
Looking for a trendy picture perfect spot? The Unicorn Factory is the perfect place to spend a day filled with fun activities and amazing picture opportunities. 
Art Deco Walking Tour | South Beach Miami 
On this Art Deco Walking Tour you are seeing many of Miami's finest examples of art deco architecture. It takes place along the beachside of Miami and is led by an expert guide. You see architectural highlights and hear stories of South Beach's history. Plus, you get to see buildings used in famous movies and TV shows. 
Inter Miami CF vs. New York Red Bulls | Fort Lauderdale 
Enjoy soccer? Well there's an Inter Miami CF vs. New York Red Bulls game on March 21st in Fort Lauderdale. This is the perfect way to kick off this Spring Break if you're a sports fan!
Sur La Table | Mizner Park 
Interested in learning how to cook? Sur La Table is the perfect location filled with tons of classes teaching you how to better your skills in the kitchen.  From Spring Macarons to your knife skills Sur La Table has it all. 
Los Olas | East Fort Lauderdale 
Looking for a place to go out to dinner with friends or family? Los Olas is the perfect destination with over 20 dining options. It is an extremely popular location that is filled with boutiques and a vibrant atmosphere. 
Disney on Ice presenting Dream Big | American Airlines Arena 
Disney on Ice presenting Dream Big is known to be a wonderful show featuring eight Disney  Princesses. This show is all about the journey on how these characters learn that courage leads the way. It also features the Frozen members for a grand finale. This Disney on Ice premieres from March 20- 22nd.