Meet the Bullseye Staff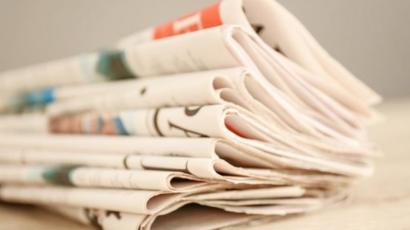 Editor in Chief- David Rudd
Hi my name is David Rudd. I am a senior and this is my 3rd year at West Boca's Bullseye. At the end of last year, I was named the paper's editor. I enjoy writing articles with the goal of providing a new perspective and introducing students, teachers, and parents to undercovered topics.  I am also a huge sports fan. After I graduate, I am planning to attend college.
Some of my goals for this year are to expand readership, cover a larger variety of topics with different points of view, and grow on social media. In this wild year, I believe the newspaper is more crucial than ever. We can provide important information regarding school and local life while also acting as an escape.
Assistant Editor – Annael Toledano
Hi my name is Annael Toledano and I am the Bullseye's assistant editor! My whole life I've traveled to different places around the world and have had a huge pull by international affairs. This has ignited my interest in writing articles about leisure activities and ongoing events in the world today. Being a part of the school's newspaper has allowed me to find my passion for journalism and expand my knowledge on current events. I'm currently undecided with what I would like to pursue in the future but I do know I would love for it to include writing. I can't wait for the remainder of the year and the new stories to come!
Research Editor – Cynthia Schneider
Hi Bulls! My name is Cynthia Schneider and I'm a senior this year. I am the research editor for the Bullseye. I like to do lots of outside research for my articles, whether that be on topics like college or text neck. I hope to write a bunch of interesting articles on our school, issues affecting teenagers, and entertainment. My favorite subjects are creative writing and science. In the future, I plan on studying molecular biology/cell sciences when I'm in university whether that be in  Florida or some of my dream colleges out of state. I hope this year will be a great one with great experiences despite the fact that we're starting off online 🙂
Marketing Director – Ashley Annese
I'm Ashley Annese and I am a senior at West Boca. This will be my fourth and obviously final year in the newspaper. I love to write about science and the arts which are the things I'm the most passionate about. I've been a dancer for 14 years and I do mostly ballet, contemporary, jazz, hip hop, pointe and modern. Dance is my passion and the way I express my emotions and release tension. I plan on attending a Florida college and majoring in either dance or criminology; I want to pursue a career in the FBI or be a crime scene investigator. My favorite subject in school is any kind of science (minus chem ew), I've always been interested in the way the world works.
Social Media Editor – Caroline Zavulunov
Hi, my name is Caroline. I'm a senior in West Boca High School, and this is my second year writing for The Bullseye and running the social media. I'm extremely grateful to be back this year as I have a big passion for researching, which this class gives me the chance to practice. I'm actually a part of the research program in WBHS called AP Capstone that allows students to learn more about research and excel at the skill. I aspire to become a defense attorney one day, as I love to debate and help people. I hope to one day become a best selling author as well; I have an immense passion for writing. I spend endless hours reading books and binging shows on Netflix. Music is a big part of my life as well, I practice singing every day after school. That's all there is to know about me. Thank you for reading, and I can't wait to start writing for The Bullseye once again.
Reporter – Maya Zohar
Hi, my name is Maya Zohar. I am a junior at West Boca, and this is my second year writing for The Bullseye. I was raised in Israel and came to the United States six years ago. I love writing, and I am looking forward to writing for The Bullseye this year. Being in this program has expanded my knowledge about current events and increased my awareness of the world around me. I hope to keep writing in the future, but ultimately I want to pursue a career in psychology.
Reporter – Natasha Kuneff
Hello everyone, my name is Natasha Kuneff. I am a sophomore at West Boca, and this is my first year at the Bullseye Newspaper. I love writing, especially when I can be creative, which is most natural when drafting pieces of fiction. My favorite topics for articles are the ones I'm close to or have an imaginative way of presenting. I enjoy experimenting with tone, prose, and altering lines to blend them into the story. Some other hobbies I have are painting and sketching, fencing, and reading. And after all my years in school, I wish to work in surgery. It's been a passion of mine since I was young—and it fascinates me the most.
Reporter – Jainayah Madeus
Hey! My name is Jainayah and I am a junior at West Boca Highschool. This is my first year at the Bullseye Newspaper. I love to write in an expressive way that can reach out to a variety of people and make topics more interesting. What fueled my inspiration for writing was my older sister who used to write bedtime stories and read them to me. Outside of writing I really enjoy reading; my favorite genre being historical fiction. Some of my other hobbies are volleyball, guitar, and swimming.