Enola Holmes Review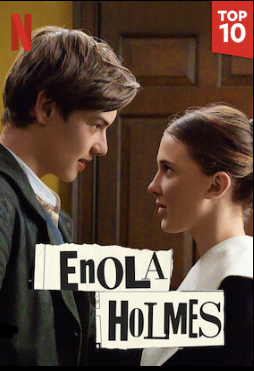 Most of us have all heard of the infamous, British detective Sherlock Holmes, but have you heard of his little sister Enola? If not, now is the perfect time to find out about her because Enola now has her own movie.
    Enola Holmes is a 2020 American mystery film based on the first book in the series of the same name by Nancy Springer. The story is about the teenage sister of Sherlock Holmes, who goes to London in search of her mother who has disappeared. The film is directed by Harry Bradbeer, from a screenplay by Jack Thorne. Millie Bobby Brown stars as the title character, while also serving as a producer on the film. (Which is so cool because she's only 16!)  Henry Cavill, Sam Claflin, Adeel Akhtar, Fiona Shaw, Frances de la Tour, Louis Partridge, Susie Wokoma and Helena Bonham Carter appear in supporting roles. Enola Holmes was originally planned for a theatrical release by Warner Bros. Pictures, the distribution rights to the film were sold to Netflix due to the COVID-19 pandemic. It was released on September 23, 2020. 
    Enola Holmes takes place in London, 1884, where the standard of a good woman is different than today's. Due to these gender norms Enola often has to disguise herself as a boy. While Enola isn't couth or the slightest bit ladylike, she has plenty of other skills that prove to be very useful in the dangerous search for her missing mother and her escape from her two brothers. These include her great observation, recollection, and deduction skills, her amazing decoding abilities, a vast knowledge of chemistry, and jiu-jitsu. (This last skill proves very effective when there is a terminator like man with a gun trying to kill her.) A socially awkward character who's not the slightest bit uncomfortable on camera, Enola serves as her own narrator, frequently breaking the fourth wall to speak to the audience or shoot knowing looks in our direction, making the watcher that much more engaged with the movie. 
    Although it was her mother's unexplained disappearance that prompted her adventure, it's the equally peculiar appearance of a cute young lord entitled Viscount Tewkesbury, Marquess of Basilwether, (Partridge's character), that consumes her attention for much of the film. After rescuing this "useless boy" from the terminator assassin, Enola goes her own way, only to find out that they're both on the run from their respected families. His wants him dead, and hers (eldest brother Mycroft), aims to send her to a finishing school for young ladies. Between the two, a teenage romance blossoms while trying to navigate through London.
    I personally don't take the time to sit and watch movies, nevertheless one that's 2 hours, but I really enjoyed this movie. I'm a huge fan of historical fiction and this movie depicted the late 19th century perfectly. Enola Holmes is filled with empowering messages for young women including how you are not alone, your vote counts, and to not limit yourself only to what's expected of you. Although this movie specifically reaches out to young women; it's a great film to watch no matter your gender. You never get bored throughout the entire two hour runtime and you may or may not shed a tear at the end. If you enjoy a comedy filled, action packed, mystery movie with a little bit of romance and feminism, this movie is perfect for you.
About the Writer
Jainayah Madeus
Hey! My name is Jainayah and I am a junior at West Boca Highschool. This is my first year at the Bullseye Newspaper. I love to write in an expressive way...