Meet Our National Merit Semifinalists
      The National Merit Scholarship Program is a US scholarship competition for recognition and scholarship administered by the National Merit Scholarship Corporation. Winning a national merit scholarship is not easy at all. Out of 1.4 million juniors, 50,000 qualify based on their high PSAT scores every year.  Only around 16,000 of these students make it as semifinalists, and they are all in the top 1% of their state. 15,000 students in this group move on to become finalists, and then about 8,000 eventually win the scholarship money. 
     West Boca High School is very proud to have two of our own students as semifinalists: Daniel Sanchez and Braeden Denny. Pictured at the end. We asked the national merit scholars some questions; their answers are below.
What do you know about National Merit so far?
Daniel: So far, we are semifinalists for the National Merit scholarship. This designation is based on 11th grade PSAT scores, however, we have applied to become finalists. This entailed an application process similar to a college application, which included listing extracurricular activities and essays. Fingers crossed, we both become finalists (we will find out in February) and can apply our National Merit scholarship at our choice school. Different schools receive the scholarship in different ways, which can mean receiving an award of up to full tuition or as low as a lump sum of $2,500. You may also be sponsored by a business with operations in your area, which would entail receiving a scholarship from the business that chooses you. I highly encourage everyone reading this to shoot for this scholarship, because you can do it! Also, I want to thank all the teachers, administrators, and peers who have helped me on my academic journey. The only reason I am eligible for this scholarship is because of your guidance and support.
Braeden: National Merit is a program to recognize student achievement with semi finalist selection based on test scores and a finalist selection based on an essay.
What schools are you applying to?
Daniel: Columbia University, University of Virginia, Tufts University, Washington University in St. Louis, Colgate University
Braeden: Northeastern University, Carnegie Mellon, Case Western Reserve, Rochester Institute of Technology, Georgia Tech, Rensselaer Polytechnic, University of Florida, University of Central Florida, University of Alabama.
What is your dream school?
Daniel: Columbia University
Braeden: My dream school would probably be Northeastern. Their combined degree system gives a lot of flexibility in scheduling and their location in downtown Boston means that there are a bunch of opportunities in music and things to do.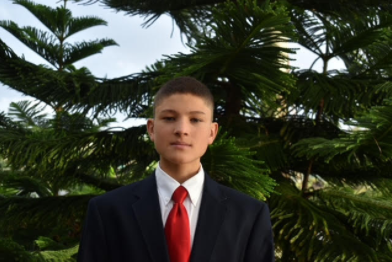 Daniel Sanchez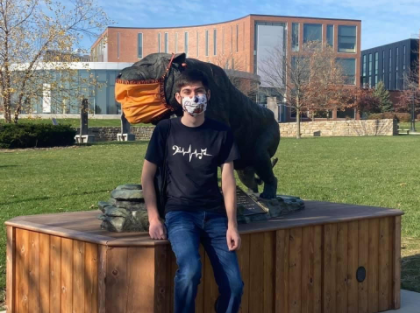 Braeden Denny