Meet the West Boca Class of 2021 Top Ten and Valedictorian/Salutatorian !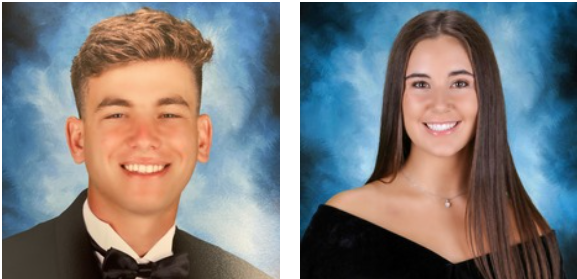 Congratulations to our class of 2021's Top Ten:
(In order from 10)
Chole Ballin
Kevin Jia
Alexa Cohen
Jake Cherkis
Rachel Cohen
Cynthia Schneider
Allison Hui
Daniel Sanchez
Shayna Cohon – Salutatorian
Adam Goldman – Valedictorian
The top ten is calculated using a weighted GPA from all high school (or college level) classes taken up until the end of the first semester of senior year. Valedictorian and Salutatorian are determined by the weighted GPA from freshman year to the end of the first semester of senior year. The newspaper asked our top ten a few questions below!
What are your plans after high school? (College/major, gap year, future goals, etc.)
Adam Goldman
Go to a prestigious college with a world-renown business program (not committed yet)
Shayna Cohon
I plan to attend the University of Florida and its Honors Program! I am studying biomedical engineering and hope that this will steer me into my future career. I could not be more excited to continue to learn and expand my horizons throughout college!
Daniel Sanchez
I have been accepted to Columbia University and plan to attend in the fall, where I will also be enlisted in the NROTC Scholarship program.
Allison Hui
I am still deciding on which college to attend, but my goals consist of going to university and then graduate school. I plan on majoring in Mathematics and Finance.
Cynthia Schneider
I will be attending the University of Pennsylvania as a biology (Molecular & Cell Biology) major on the pre-medical track. I want to be a physician-scientist and do research on cancer or genetics.
Rachel Cohen
I will be attending the University of Miami in the fall and majoring in psychology.
Jake Cherkis
I am planning to go to college and major in chemistry. After that, I'll see what happens.
Alexa Cohen
I plan to attend either the University of Texas at Austin or the University of Florida with a major in chemistry and neurology. I hope to do research on the brain and how it works. I would love to study the interactions of the brain with medications and how neurological diseases arise. After college, I hope to attend medical school. Although I am unsure of what I want to specialize in, I would love to continue research and maybe one day develop a drug to help lessen the symptoms of a disease that affects the lives of so many people and their families.
Kevin Jia
College, hoping for business, math, computer science-related. Looking forward to traveling more
Chloe Ballin
UF Honors College
What has been your motivation to do so well in high school?
Adam Goldman
I enjoy learning; I feel that it is easy to be motivated to do something that you like doing.
Shayna Cohon
My motivation to do so well in high school comes from lots of love and support from family and friends. Throughout all of my school experience, I have been so lucky to encounter inspiring classmates and life-changing educators. These individuals have strengthened my motivation and kept me determined to work to my full potential in all that I do. My internal motivation came from always reminding myself that I wanted to make my transition from high school to college the easiest for both myself and my family. I knew that I wanted to set myself up to go to college without any worries or hesitation.
Daniel Sanchez
A love of learning and a desire to make the world a better place.
Allison Hui
My motivation to do well in high school stems from my desire to embark on a successful career journey and explore subjects I love learning about the most. I also stay motivated to make my parents proud, since they have sacrificed so much for me to have a quality education.
Cynthia Schneider
I really like learning new things, so it was easy to push myself to take harder classes.
Rachel Cohen
I have always been driven to do my very best in school and being able to attend the college that I wanted was a major driving factor.
Jake Cherkis
Wanting to try my best and know I did everything that I could. I didn't want to look back and wonder how things would have been different if I had tried harder.
Alexa Cohen
I have a passion for learning and I am motivated by my future goals. This has allowed me to excel in high school and maintain straight A's.
Kevin Jia
My own improvement, giving back to my parents, being able to help others
Chloe Ballin
Getting into UF and also I have always been self-motivated to succeed academically.
Tip(s) for incoming students/underclassmen?
Adam Goldman
Don't feel pressured into taking every AP and AICE class possible only because you want to be ranked high. If you feel prepared and ready to take these classes, then take them. For students playing sports, put your grades first, as having high academics will open the door to offers from great academic colleges.
Shayna Cohon
My advice to all students that are starting, or are early into high school is to believe in yourself and know that you are capable of achieving anything that you put your mind to. I would advise all students to get involved with clubs and activities that you are drawn to. It is very important to have a balanced schedule that allows you to work, have fun, and do the things you love! I wish you all the best of luck and cannot wait to hear about all of your amazing accomplishments!
Daniel Sanchez
Do what you enjoy and be yourself. Don't let other people's expectations dictate your actions.
Allison Hui
Never lose focus of your goals and don't be afraid to challenge yourself. Sometimes, the most difficult classes are the most rewarding. Try to take a variety of classes and electives; high school is a time to discover your passions, interests, and future goals. While studying and maintaining good scores is important, don't forget to also participate in extracurriculars. For example, volunteer, join a club, or even start a new one on campus. Not only will you have a good time but your college applications will thank you.
Cynthia Schneider
Take dual enrollment classes, especially if you're planning on staying in Florida for college because many of these credits may transfer and it is cheaper than taking the same class in college.
Rachel Cohen
I recommend always trying to challenge yourself by taking the hardest courses available. While it may seem overwhelming at first, time management and determination make it truly worthwhile! Also, I recommend taking many dual enrollment classes in the summer because those can really help you out!
Jake Cherkis
Getting a bad grade on a test isn't going to ruin your transcript.
Alexa Cohen
These past 4 years went by so fast! Make sure to not take your time for granted and always try your hardest. Always ask for help if you are struggling with a subject- I spent most of my lunches in 11th grade in the AP Chem classroom to get help. Take as many AICE, AP, and dual enrollment classes as you are capable of and push yourself to be the best.
Kevin Jia
Have a solid routine, study over time, make time for yourself too
Chloe Ballin
Dual Enrollment!!!! Saves you money and credits and helps your HPA. Also if you are good at math take calculus with Jacobowitz, she provides a math education like no another.
For Valedictorian/Salutatorian ONLY!! – What was the class that almost jeopardized your valedictorian/salutatorian status/rank (basically your hardest class)? Why?
Adam Goldman
APUSH – I never have been big on history, and it was the first AP class I took. I had trouble memorizing all the dates and events.
Shayna Cohon
AP Physics 1 was definitely the class that pushed me to my limits. At times it seemed as if all of the effort I put into the class and material did not matter, and I felt discouraged and ready to give up. My teacher, Ms. Wenk, was the biggest believer in her students and would always give me boosts of confidence that turned my mentality around. I worked my absolute hardest and, in doing so, found a serious passion for physics. Although this may have been the most stressful and demanding class I have ever taken, it is also the one that I feel as if I got the most out of. Ms. Wenk and my entire AP Physics class will always be remembered as the most horrific, best thing to ever happen to me!
Congratulations once again to the Top Ten, Valedictorian/Salutatorian!