All you need to know about FSA, AICE, and AP testing
AP
If you wish to learn more about how AP tests work, please visit this article.
AICE
Students will take the AICE exams in-person, paper-pencil. Distance learning students will have to return to school to take the test, but if students need to self-isolate or quarantine during their scheduled exam, Dr. Tasia Sawyer (Assistant Principal) will contact Cambridge for a special consideration exception.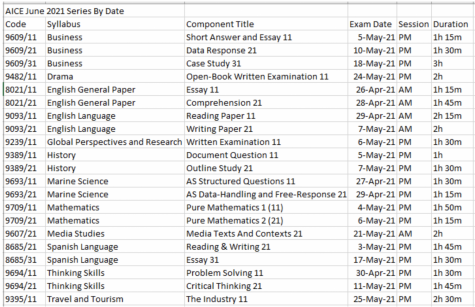 To be safe during this pandemic, the testing facilities have temperature checks at the door, seating spaced six feet apart, mandatory mask rules, students having to bring their own extra pens and calculators, and students being asked to social distance while waiting in line to enter. For everybody's safety, the testing rooms will be sanitized before and after use.
Other than the necessary precautions, the exams will be the same as any other year (not including the 2019-2020 school year, where there were no tests). Keep in mind that Cambridge does not offer makeup test days during a given exam series, so students will test on the day and time the exam is administered.
FSA
The test will be administered per the guidelines of social distancing. All testing materials will be sanitized (including desks), temperatures will be checked upon arrival, and masks will be required. The gym, cafeteria, and several large classrooms will be employed to seat the students taking the test. Virtual students must go to the school campus; however, those who elect not to may do the retakes for the exam paper-pencil next year.
ELA and FSA retakes were already done this year, as well as the SAT, and Lynne Weissing stated that the only issue has been the wait time to get into the testing sites due to temperature checks at the door, which is important for student well-being.
The district stated this on the State of Florida's current policy regarding those who choose not to test due to safety concerns:
Students in EOC courses who do not test will have an "I" course grade until they receive a score on the EOC in a later administration (Fall, Winter, Spring 2022).

Students who do not test but still need the Testing Graduation requirements will have to pass a later FSA or Concordant Test to meet these requirements.
The FSA testing dates for this year:
April 13th: 9th grade Writing
April 14th: 10th grade Writing
April 15th: Makeup for both
May 17th/18th: 9th grade Reading (2 day test)
May 19th/20th: 10th grade Reading (2 day test)
May 21st/24th: Makeup for both
May 26th/27th: Geometry EOC (2 day test)
May 28th/June 1: Geometry Makeup
June 1st/2nd: Algebra 1 EOC (2 day test)
June 3rd: U.S. History EOC
June 4th: Biology EOC
June 7th/9th: Makeup Day for Algebra, History, and Biology
Letter from the district sent to parents regarding testing this Spring (for additional information on any of the tests):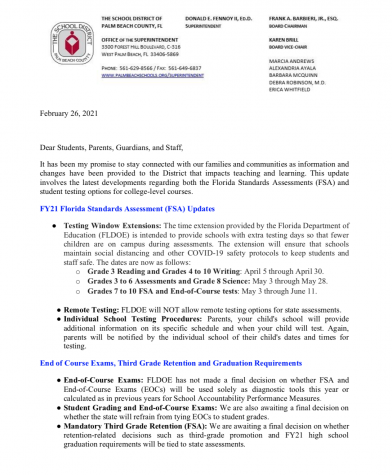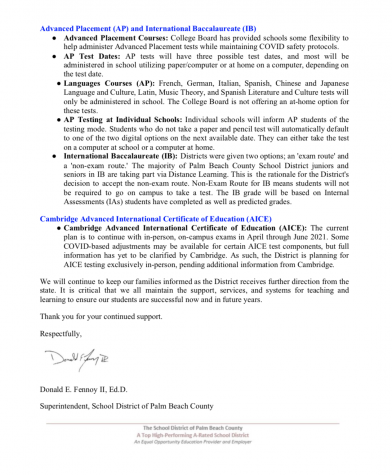 About the Writer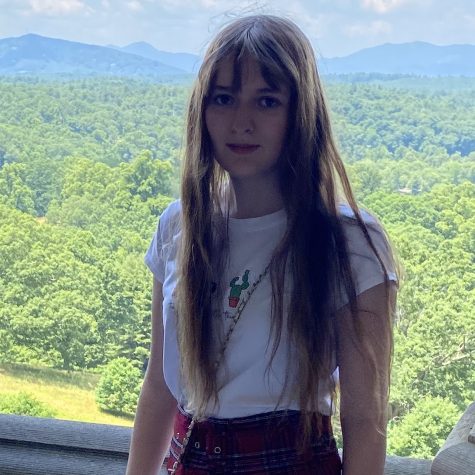 Natasha Kuneff
Hello, my name is Natasha Kuneff. I am a junior at West Boca this 2021-22 school year, and this is my second year in the Bullseye Newspaper. I love writing,...