New Teacher Spotlight: Ms.Wiles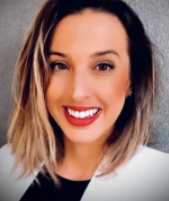 It's the start of a new school year! You know what that means… new people! New students, of course… New teachers too! Everyone may know about these new teachers, but do you really know who they are and what they have in mind for the students of this school? The Bullseye interviewed three new teachers in West Boca, and got to know each of them personally!
Have you heard of the West Boca Bullseye?
Now I have! 🙂
What college did you go to? 
I started at UF as a dance major, but I came home Freshman year because I just didn't like Gainesville. I think I felt pressure to go there because it's like, you don't turn down UF if you get in, right? The truth is, at 18, I don't think I was ready for a big school like that. At 18, I just needed to reset, so I came back to FAU to finish my Bachelor's degree, and it was a great experience. Years later, I ended up returning to the University of Florida to get two separate Masters Degrees, so I sort of came full circle there. So, Go Owls! Go Gators! 
What are your favorite sports teams or sports to watch? 
Can ballet be considered a sport? My favorite sport to watch is soccer: I love Inter-Miami because their colors are Pink. Also, if there are cheese nachos at a game, I'll be there…that's kind of where I am at with sports. 
Family?
 I have a dog named Gidget…my mom, dad, and brother also live nearby. They are all my rocks/world 🙂 I have been holding off on the marriage/kids thing. I have realized that dogs are easier to deal with than husbands–lol.
What has been the most exciting part of your job so far? 
Watching my students grow into incredible people. Some of the seniors here…I have known them since they were in 6th grade at Loggers' Run Middle…that, to me, is priceless. 
If you were not a teacher, what would you be doing? 
I am a Slytherin…so you know, we are smart, sneaky and a little mischievous—so, given the fact that I notice every little detail, I can read people well, and I love to dive deep into research, I would say: Private Investigator/Detective. All of my friends who are looking to solve a mystery in their lives come to me 😉 
How is West Boca different from other schools? 
The staff, the leadership team, and the students—I love coming to work because of THEM. School culture is everything. I am from this community, and I love my community. My heart is here. That's what makes this place different. I grew up here, so it holds special significance for me.