Kickoff 2021
2021-2022 Season
The 2021-2022 football season kicked off on August 20 with an away game against Forest Hill, which unfortunately resulted in a loss. Compared to the Spring, the team is larger and presents a promising outlook for this football season. They have been preparing through the summer with gym training and mental training that instills discipline, structure, and hard work.
Behind every great team, there is an even better team of coaches: Coach Rowe, Coach Zachary CC, Coach Christopher Touze, Coach Asante Long, Coach Helem, Coach Petit, and Coach Max Mazur. Coach Rowe, the head coach, started last year, so this is going to be his first full season because last years' was disrupted by COVID-19. Also, the football team fosters leadership in all their players by rotating through team captains.
Coach Rowe
Coach Rowe grew up playing football and played for Kansas State University. After college, he progressed to become an NFL free agent where he jumped around from team to team for a time. Unfortunately, Coach Rowe's professional career ended due to knee injuries, but this only meant the start of his long coaching career. His first coaching position was a defensive coordinator at Boca High, then he was hired as a college coach for Scott Community College, he then moved to Navarro College, Kansas State, and Abilene Christian University. After Abilene, Coach moved back to South Florida and started teaching at Atlantic High School before coming to West Boca. 
Toughness, physical and mental, is a quality that Coach Rowe values and looks for in his players. This is necessary because players need to be willing to put in the hard work required to overcome all of the challenges associated with football. Coach Rowe reminds his players to "keep pushing and never give up" no matter how difficult of a game it is. Football is a team sport where everyone needs to keep a level head in order to play their best and not let their teammates down. It's also important to celebrate all the small victories Coach
Rowe explained "whether it's a great practice or a kid meets his goal in the weight room" .
COVID is presenting some unexpected obstacles to football this year because of the additional safety protocols required. For instance, players need to bring their own water bottles whereas before the coaches could give their players' bottles, and masks need to be worn when working out in closed spaces. However, these measures are necessary and demonstrate that steps are being taken in order to ensure everyone's safety as schools attempt to regain some semblance of normality.
The team and coaches also have a good college recruitment season to look forward to since scouts will be allowed to come see the players in person this year. Furthermore, Coach Rowe believes that there are multiple talented players that are very likely to get offers as the year and season progresses. 
Player Profiles
Justin Mosley

Justin is considered an athlete, meaning he has several positions: Receiver, Corner, Running back,and Kickreturner. His favorite athlete is basketball legend Michael Jordan, and his mantra is "speed kills". Justin began playing football after a spectator at one of his basketball games suggested he try the sport because of his speed and agility. COVID greatly impacted everyone last school year; Justin said, "For me COVID hurt a lot because I worked through the summer and ended up playing only two games, but it's in the past and we're just focused on trying to stay healthy". The football department has put multiple measures in place in order to keep everyone healthy; the mask mandate and contact tracing are two examples of the new challenges that players have to adhere to in order to have a long, healthy season. Looking to the future is important because West Boca has some big games coming up, especially against Deerfield who is known for their talent and speed. In his free time, Justin enjoys playing the drums and he is also a sprinter for the track and field team, meaning he runs the 100, 200, and 4 by 1.
Anthony DeGasperis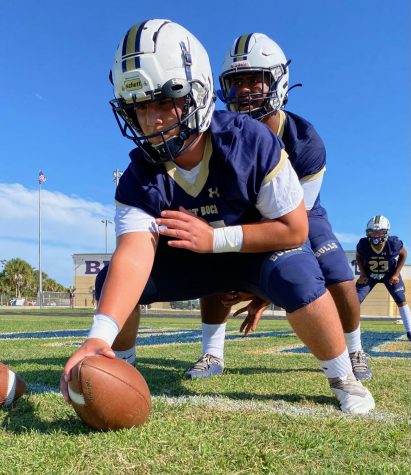 Anthony is motivated by the saying, "work hard, like someone else is working behind you two times harder." He is the team's center meaning he is responsible for snapping the ball and blocking for the quarterbacks and runnerbacks. His favorite NFL team is the Dolphins, and his favorite player is Dan Marino. Anthony has high hopes for this football season after everyone has trained so hard over the summer, and he believes the "biggest competitor is every school, every game." Last year was also a big disappointment in his opinion because virtually all of the games were cancelled. Anthony has "always been a humongous football fan since day one so [he] knew at a very young age that [he] was going to play high school football […and he's] so happy to be here and be living the dream."
Andrew Garcon
Andrew's sports hero is Russel Westbrook, and his favorite quote is simply "Why not?" Balancing football, school, and personal life is difficult at times, but those who are passionate for football will always find a way to make it possible. Andrew is the team's running back, linebacker, and kicker. Andrew began playing football as a freshman and he plays the drums as well. When asked about West Boca's biggest competition Andrew stated, "I would say we definitely want to beat all the teams in Boca because of the rivalry, but our biggest challenge would be Deerfield." COVID's impact on the team has not gone unnoticed, and Andrew says that "it's still here messing things up."