September is Suicide Prevention Month
National Suicide Prevention Lifeline 800-273-8255
September is National Suicide Prevention Awareness Month. Suicidal thoughts, much like mental health conditions, can affect anyone regardless of age, gender, or background. Suicide is the 10th leading cause of death in the U.S., the third leading cause of death for people aged 10–14, and the second leading cause of death for individuals aged 15–24. Suicide rates in the U.S. have increased about 33% from 1999 to 2019. 78% of all people who die by suicide are male, although women are more likely to attempt. 46% of people who die by suicide have a diagnosed mental illness, and 90% of people who die by suicide have experienced symptoms of mental illness. It's time people start talking about these shocking facts and break down the stigma surrounding it. National Suicide Prevention Awareness Month is the perfect time to start spreading awareness.
However, at the end of the day these numbers might blur into the screen because they are just numbers. Except they are not just numbers. They are real people, real stories, and real tragedies- 700,000 tragedies per year, increasing everyday. One person every 40 seconds. In the blink of an eye, a life has passed, and everyone becomes forever changed. Those who have attempted suicide, are struggling with their mental health, feel scared, lost or hopeless, feel isolated or alone, or have lost someone to suicide can tell you. They can try to speak for those who cannot. They are real. They are personal. The world is never the same when someone is gone. The strength to hold on may be the hardest but also most important thing there is. The world is better with you in it. 
I, myself, have lost someone to suicide. My grandpa was one of my favorite people in the world. I always thought the room smiled when he did and he may as well have walked on water. If you had asked me then, who I thought the happiest person in the world was, I would have said him; always laughing and making jokes. But sometimes mental health is a private and quiet struggle. Many people never let on what they are going through. Nobody knew the battle he was fighting, until it was too late. Until he was gone and a piece of everyone who knew him was gone with him as well. People do send signs though, sometimes signs seem invisible unless you are looking. It is up to us to educate ourselves about the signs, which I now know, which may include:
Talking about wanting to die or to kill themselves

Looking for a way to kill themselves, like searching online or buying a gun

Talking about feeling hopeless or having no reason to live

Talking about feeling trapped or in unbearable pain

Talking about being a burden to others

Increasing the use of alcohol or drugs

Acting anxious or agitated; behaving recklessly

Sleeping too little or too much

Withdrawing or isolating themselves

Showing rage or talking about seeking revenge

Extreme mood swings
People tend not to reach out for help because of the stigma surrounding mental illness. They feel ashamed and alone with no one to reach out to. Over time the stigma has been knocked down a lot, but not enough. It's not enough that people still feel like they can't reach for a lifeline when an illness- mental illness is becoming terminal. It's an illness like any other and it needs to be talked about. Shying away from the topic and never discussing it is feeding into the toxic stigma that allows thousands of people to feel helpless. We need to talk about it this month- in significance of National Suicide Prevention Awareness month, and every month. Raising awareness and even being vulnerable is okay. Knocking down this stigma could save so many lives.
There are so many resources available. There are so many ways to reach out. Getting help is nothing to be ashamed of. Speak to a friend, a family member, teacher, or mental health professional. Your teachers and guidance counselors are here to help you. The power to reach out for help makes a person strong.
If you need help:
www.suicidepreventionlifeline.org
National Suicide Prevention Lifeline: 800-273-8255
Crisis Text Line: Text TALK to 741-741
RAINN National Sexual Assault Hotline: 1-800-656-4673
National Teen Dating Abuse Helpline: 1-866-331-9474
The Trevor Project: 1-866-488-7386
Finding mental health care
http://www.helpstartshere.org/
https://findtreatment.samhsa.gov/
September is National Suicide Prevention Awareness Month. Spread awareness, break the stigma, and stay mentally healthy. Let's all do what we can to help.
About the Contributor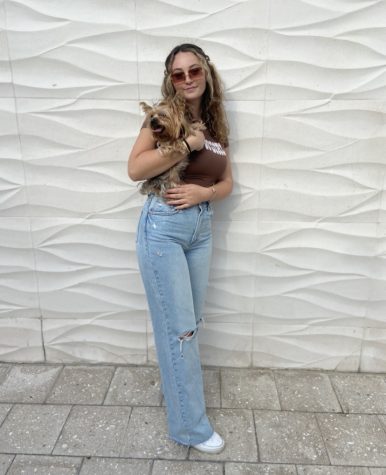 Ariana Chernis, Reporter
Hi, my name is Ariana. I'm 17, and a senior at West Boca. Even though I'm a senior, this is my first year here. I transferred over from New York, where...