Fall Family Fun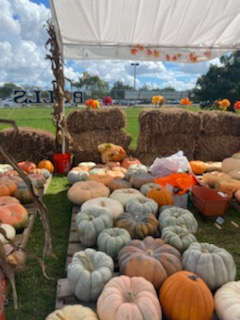 Student government is running West Boca's first ever pumpkin patch! It will be located at West Boca High school, next to the bus loop, starting October first through the twenty-ninth. On a related note, students looking for volunteer hours can reach out to Amy Steel if they would like to help run the pumpkin patch.
There is no price for admission, only for the food and activities. On  October 9th and 23rd there will be a wide variety of activities: glitter tattoos, pumpkin bowling, photo stands, corn hole, and many more. Local businesses will be featured to help the community during the hard financial times brought on by COVID-19. 
The Methodist church on Lyons and Glades, First United Methodist Church, inspired the pumpkin patch because they used to organize an annual pumpkin patch before closing. Since the church stopped their tradition and Bedner's farm is beginning to charge $22 for admission, the high school has taken the initiative to provide a more accessible pumpkin patch to the community. All of the proceeds will go to the student government fund which will then be reinvested in the student body with pep rallies, dances, and other school activities later in the year.
Student government hopes that this fall festivity becomes an annual tradition at West Boca High. Ms. Steel, the teacher in charge of SGA, expresses how she hopes "that [the pumpkin patch] is a success that highlights the great qualities that West Boca possesses". Bring your friends and family, community participation is greatly encouraged. 
Moreover, students are also excited about creating a sense of community this fall through the pumpkin patch. Two members of SGA Elise Kelley and Alyssia Wright commented that it will be "something that brings together the community" and "creates a family friendly environment" respectively. Similarly, Taylor Schulman is anticipating the festival because he "missed interaction with students and familie after such a long-time". Evidently, the overall goal of the pumpkin patch is simply to create a place where the community can come together and enjoy themselves after missing out on so many festivities over the past two years.