West Boca's Production of 110 Stories Helps Us Never Forget
Having not been alive during the terrorist attacks on September 11, 2001, I only had the general knowledge from the media, my family, and my peers about the event. However, I am much more connected to both those lost and those who survived after seeing the West Boca High School Theater Department's production of 110 Stories.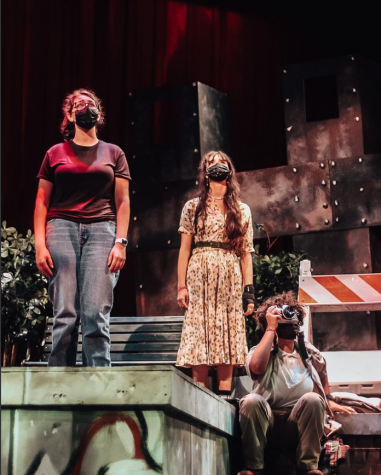 After the lights came up, I completely forgot that high school students were acting. The faces of first responders, volunteers, and New York City residents shared their intense, traumatic experiences with the audience.
The production was simple – no elaborate choreography, fancy lighting, or sound effects. This created a very conversational piece. It felt as though I was there. Director Lance Blank and his team of production designers did an excellent job bringing the tragedy to the West Boca stage. Furthermore, the cast and crew produced a tasteful presentation of the characters' experiences without overwhelming the audience, despite being a rather emotional topic.
By the end of the first act, my heart was racing with adrenaline, as the urgency of firefighters helping people escape the towers, the anxious parents not knowing if their children were safe, and the people on the ground running for their lives used every single drop of energy to make it out alive.
In short, the stories of these individuals are important to the survival of American liberty and are an essential part of our nation's history. Come support West Boca's performing arts as they display their great work on stage!
The final three performances of 110 Stories will be Friday, November 19 at 8:00 pm and Saturday, November 20 at 2:00 pm and 8:00 pm.