The Best of the Bulls!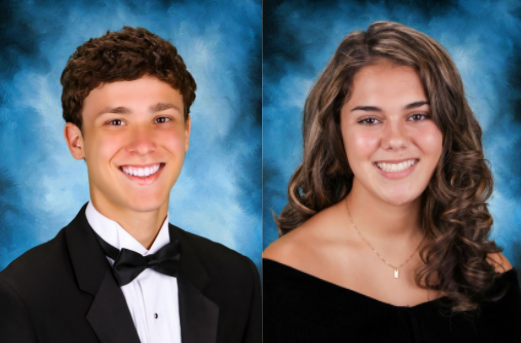 2022 Valedictorian – Alexander Stone
2022 Salutatorian – Olivia Briggs 
A huge congratulations to the West Boca Class of 2022 Valedictorian and Salutatorian!  Both of these students have worked extremely hard throughout high school and have achieved some remarkable accomplishments. All of the West Boca faculty, students, and staff are very proud of these students and applaud their impressive achievements. 
Class rank is calculated by using ALL high school credit courses, including high school and middle school courses taken for high school credit. The Val/Sal is an award based on the calculations of the courses taken from 9th grade to the first semester of 12th grade. 
We spoke with Alexander Stone (Valedictorian) and Olivia Briggs (Salutatorian) about their future plans and any advice they have for other students.
What is your dream school? 
Alexander Stone: "Harvard. For me, Harvard's always been something I've been striving to get to, and I absolutely love the surrounding area. Boston's one of my favorite places in the world, and I'd love to get the opportunity to go to school there." 
Olivia Briggs: "The college I wish to attend is Florida Atlantic University (FAU). When I was younger, I wanted to attend a college close to home near family and friends, thus I considered FAU to be the best option for me. As of now, I have been accepted into this school, asked to be a part of their Honors program, and received one of the college's scholarships. Today, my wish still remains the same." 
Do you know what you want to major in? 
Alexander Stone: "Yeah, I do. I'm planning on majoring in aerospace engineering because it brings together some of the subjects and topics that I'm most passionate about." 
Olivia Briggs: "I want to major in Communications of Science and Disorders. I want to become a Speech Pathologist for either a school district or nursing home. I'm also considering a minor in Creative Writing." 
What subject interests you the most, and why? 
Alexander Stone: "Well, all throughout high school, my math classes have been my favorite. I really enjoy challenging myself and learning more about the subject, so I'd probably say that math interests me the most." 
Olivia Briggs: "English has always interested me the most. Beginning with elementary and middle school, I was an avid reader. From there, this love turned into creating my own short stories written in my perspective. During high school, I had the most amazing English and Speech teachers. All of them taught me how to be a better writer and presenter. Specifically without these teachers, I wouldn't be the same person I am today." 
What is your greatest motivation? 
Alexander Stone: "Oh wow, that's a tough one. I'd say that my greatest motivation is being the best that I can be at something. I hold myself to an impossibly high standard at times, and I get the most satisfaction in knowing that I put my best foot forward regardless of the subject or activity I'm completing." 
Olivia Briggs: "Striving for success is my greatest motivation. For 9 years, Kindergarten through the 8th grade, I went to St. Joan of Arc Catholic School. There, I was taught to achieve the highest grade I deserved to earn, study harder for the next test, and learn from past mistakes. I was taught to respect my teachers and highly take their advice and to value kindness and positivity overall. From my previous schooling, I was taught that success isn't easily achieved, but it can be if one ultimately sets their mind on it."  
What is your biggest dream? 
Alexander Stone:  "If I had to say, I think my biggest dream right now is becoming a NASA engineer and making a difference in my field." 
Olivia Briggs: "My biggest dream is to always be happy. Currently, I have never been happier, and I want this joyfulness to continue until the end of my time. I am happy at who I have become and who I have met. My life is a blessing, and I am so glad for my success. I want love, delight, and peace to forever have a place in my heart and mind. " 
What do you like to do when you're not in school? 
Alexander Stone: "I love watching and playing sports. My favorite sports to watch are definitely football and basketball, and my favorite sports to play are baseball, soccer, and pickleball. Shoutout to the West Boca Varsity Pickleball Team." 
Olivia Briggs: "When I'm not in school, I like to be with friends and family. I love playing Sunday night kickball each weekend, and am at almost every one of our school's basketball games to cheer on my boyfriend. On Saturdays, eating cinnamon rolls and bagels is a tradition at Panera." 
What was your biggest challenge in high school? 
Alexander Stone: "My biggest challenge in high school was definitely staying organized. At times, it was really difficult not to get overwhelmed by all of my homework and activities, and staying organized was for sure a struggle." 
Olivia Briggs: "My biggest challenge in high school was balance. It was more strenuous to keep my grades up when I accepted my job offer. Balancing school and work is a definite challenge, but I was able to find dedication and commitment."   
Any wise words for the future classes?    
Alexander Stone: "Ahh, that's a good one. I think the biggest thing I'd advise future classes is just to focus on developing habits that suit the type of student you are. I know a lot of the study habits I have don't work for other people, and vice versa. So yeah, I'd pretty much just say to not try to change the type of student you are; just try to become the best version of that student." 
Olivia Briggs: "For future classes and students, I would tell them to never take anything for granted. High school passes by quickly, so students should enjoy their time, experience new things, and try their absolute hardest to achieve what they want to receive."    
Once again, congratulations Class of 2022! May your futures be bright with lots of success throughout your lives!