2022 Tennis Team!
      February 10 officially marked the start of the 2022 tennis season for West Boca, and both teams are on top of the game so far! The girls and boys team are set for a promising season, and welcomed many new recruits. The boys lineup is: Archie Balyberdin, Zuhayr Alam-Ahmed, Eduardo Cardenas, Teo Petrowski, Spenser Aronson, Emiliano Cardenas, Lucas Custodio, and Isaac Edelman. Playing for the girls team: Mia Niedzwiedzki, Alejandra Cardenas, Amelie Salum Rapetti, Michelle Tenorio, Sydney Davis, Axelle Fils Aimes, Paige Lillich, Micayla Lowe, Amari Rolle, Julie Saltz, Selen Secilmis, Nicole Stone. Congratulations!
      The amazing turnout brought in numerous new recruits with many years on the team ahead of them. Coach Nygren and Coach Whittaker returned as the girls' and boys' tennis coaches respectively. However, the great camaraderie and joint training of the teams makes WB tennis feel like one big family.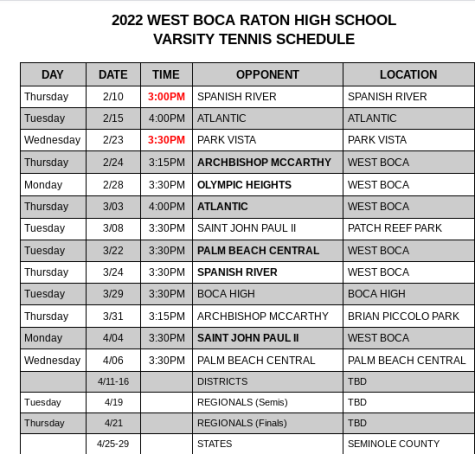 Tennis matches consist of five singles and two doubles. The winner of the two competing schools is decided by best out of seven matches; thus, a school needs at least 4 wins to pull out a victory. The image above includes a schedule of all the home and away matches. 
    The team has built a virtually spotless record of wins. The match against the defending 2021 champions Spanish did result in a loss, however the tennis team began their winning streak in the match against Atlantic. So far the girls and boys teams have been undefeated for three matches, and the streak is sure to keep going!