Making History
The West Boca boys tennis team may very well be on their way to setting the bar for the future of boys tennis at WB. After playing an amazing season, they were the runner ups in their district! The final overall scores for districts were: Spanish River in first with 17, West Boca in Second with 13, and Boca High in third with 10. West Boca made an unexpected, but certainly well-deserved jump in the rankings compared to last year where Spanish River and Boca High were the two schools to advance into the regional semifinals. 
The lineup for singles was Archie Balyberdin, Teo Petrowski, Zuhayr Alam-Ahmed, Eduardo Cardenas, Spenser Aronson. Archie and Eduardo partnered for line one doubles, and Zuhayrs played with Teo in the line two doubles. Now the guys are proceeding to regional semifinals where they will play a regular best out of seven matches against another school; five singles and two doubles matches. The game is set for Tuesday (19th) at 3pm, Wellington high school. If they win, they advance to the regional finals. WB's district had some very competitive schools: Spanish River, Boca High, and Olympic Heights; regardless, the Bulls were victorious!
This victory was a team effort, however, Teo performed exceptionally winning the line two singles and line two doubles with his partner Zuhayr–all this in only his freshman year. He faced Spanish River in the line two singles final and won 6-4 7-6 (8-6)! Archie and Zuhayr were both finalists in their singles, they played tough matches against Spanish River. Similarly, Eduardo and Spenser played in difficult draws where they encountered Spanish River early on in the tournament.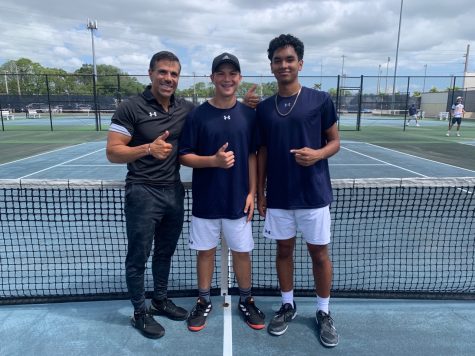 Coach Whittaker commented: "I'm extremely proud of what the boys tennis team has accomplished this year. In fact, it's the best season that any boys tennis team has ever had at West Boca". Team captain, Zuhayr Alam-Ahmed, said "I'm very proud to call myself captain of this amazing team of boys. This season has been wonderful, I've seen tremendous growth from the guys on and off the court and love leading them". The team is sure to just keep getting better since Zuhayr is a junior, Archie and Spenser are sophomores, and Eduardo and Teo are only freshmen! GO BULLS!