Medical Academy Gives West Boca Students CPR Training
April 11, WBHS: 9th and 11th graders at West Boca High School started receiving hands-only CPR training from the school's medical academy. Last Monday marked the beginning of a week-long process to get all of the students in the class of 2023 trained. The state of Florida has mandated CPR training for high school students.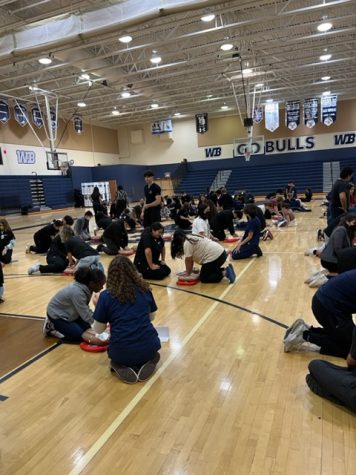 Students began their session in the auditorium, where they watched instructional videos on what to do when you arrive at the scene of an unconscious individual. This also included directions on caring for a severe bleed. 
From there, the students moved into the gym where teachers and students from the Medical Academy taught hands only CPR to over a thousand students at WBHS. Special thanks to  Ms. Kathleen Ali for planning and implementing this large venture, as well as to the West Boca Medical Academy teachers Mrs. Lynne, Ms. Pollicino, Ms. Scroggins, and Ms. Critchlow and their students for allowing trainees to have one-on-one training with academy students. This truly allowed West Boca students to experience practicing "hands on" CPR in only two days time.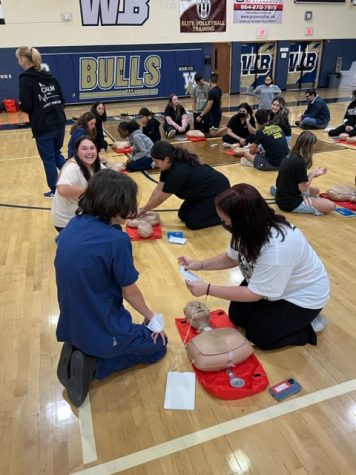 Believe it or not, Florida law requires this instruction. Statute 1003.453 states that "School districts are required to provide basic training in first aid, including cardiopulmonary resuscitation, for all students in grade 9 and grade 11," and also mentions that "The instruction must allow students to practice the psychomotor skills associated with performing CPR." 
The skills our students now have could potentially save lives. According to the American Heart Association, over 350,000 cardiac arrests occur outside of the hospital. Training of bystanders has proven to save double and triple the amounts of lives that may be lost otherwise.
May West Boca continue in this great practice by giving students the ability to save lives, as well as give their medical academy students more experience to prepare them for the real world.