West Boca Drama Cleans Up at the Cappies!
The "Tony Awards" for South Florida High School Theater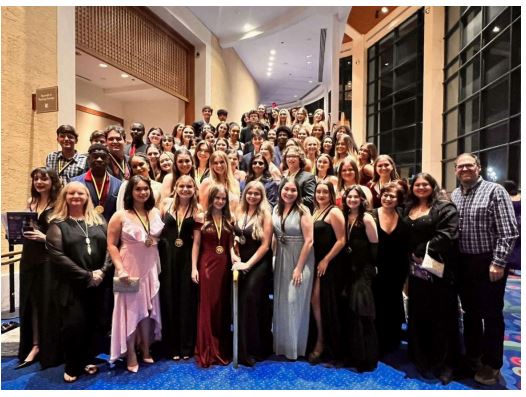 As hundreds of theater students surrounded the Broward Center with large smiles and full hearts, they entered hopeful that their nominations would lead them to an award.  The West Boca Drama Department continues to uphold its exemplary legacy as Troupe 6760 walked away from the 20th Annual Cappies Awards with 6 cappies. The Cappies Gala is known as the "Tony Awards of High School Theater". 19 different schools in the counties of Broward and Palm Beach, in addition to parents and students that filled up the glorious theater to which many guest speakers and High School nominees performed delightfully for the crowd. The South Florida Cappies is an organization that awards students who attend any public, private or parochial High School on their selected performance to be evaluated. This organization is student-led as each school selects 3-7 student critics who watch, review, and evaluate High School productions. 
Out of the 13 nominations West Boca earned, we proudly walked away with 6 awards including Props (Ella Martinez), Dancer in a female role (Elliana Herr), Hair and Make-up (Morgan Seeley and Mariel Ricks), Comic Actor in a Female Role in a Musical (Paisley Kinkade), Costumes (Kelsey Bonner and Rachel Frenchman), and Ensemble in a Musical (The Burger Palace Boys). 
Troupe 6760 is so proud of everything that they have accomplished this school year, especially the cast and crew of Grease. We thank Mr.Blank for all of his hard work and dedication to the department this school year and cannot wait to see what is in store for the many years to come!!