Learning to Adapt
Out of the 2,282 students enrolled at West Boca Raton Community High School, 37.5% are Hispanic or from Hispanic descent (West Boca Raton High School).That accounts for about 855 individuals who come from a different cultural background and are completely unfamiliar with the American lifestyle and may have trouble adapting to the new school environment. With that, the question comes in, what can we do to help?
As a first generation immigrant myself who was born and raised in Brazil and didn't know any English prior to moving to America 3 years ago, I was absolutely terrified to walk into my first day of school, not knowing what to expect. Fortunately, I was so welcomed by the people in the ESOL program at Loggers' Run Middle School. Here, at West Boca, the ESOL program is led by Mrs. Singer.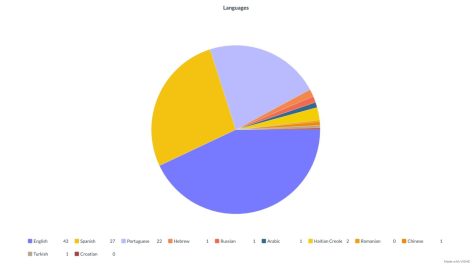 Diversity 
There are 272 students currently enrolled in the English Speaker as a Second Language (ESOL)  program, where 26.8% of students speak Spanish, 21.8% Portuguese, 2.4% Haitian Creole, 1.4% Hebrew, 1.2% Russian, 1% Arabic, .7% Chinese, .5% Turkish,.3% Romanian and many more.
Process and Help available
When Non-native new students come in, they are sent over to test their English level with Mrs. Singer and based on their score, they're assigned certain privileges such as: 
Testing in a separate location

– ESOL students are able to test in the ESOL room, where they're free from any interruptions or distractions.

Extra time and Dictionary-

Students are allowed a specific amount of extra time on regular tests and state tests; they are able to use translation dictionaries.

Sheltered classes

– ESOL students are able to attend core classes, such as English, Algebra 1, Geometry, and US and World History in an isolated environment with only people who are also in ESOL. That allows for a better understanding and more help available

Teacher Help

– ESOL has teachers who accompany students in their classes and help with translation.
It is important to know about all of the help that is available and for new students: don't worry, Mrs. Singer, Mrs. Claudia, Mrs. Feliciano, have your back! Their message for all students: "You're welcome to come here for help, to chat, or to hang out! We're always here for you!"