West Boca Remains Undefeated at Home, Demolishing the Spanish River Sharks 40-0
The West Boca Bulls defeated the Spanish River Sharks 40-0 on Thursday night to remain undefeated at home (3-0, 3-1 overall). It's the first time since 2014 in which the Bulls have started their season with a 3-1 record through four games.
The Bulls defense came to play yet again, as they held the Sharks to a goose egg (zero points) on the scoreboard. The offense was also clicking on all cylinders, as freshman quarterback Mason Mallory threw five touchdowns and RB Javian Mallory (freshman) and WR Tyler Cordero (senior) hauled in two touchdowns each.
Recap
Mason Mallory continues to produce for the Bulls, completing 13 of 24 passes for 207 yards, five touchdowns, and no interceptions on Thursday night. Mason now has 11 touchdowns on the season.
Mason's cousin, RB Javian Mallory, is also continuing to produce for the Bulls. Javian had 14 rushes for 80 yards and a touchdown, as he broke tackles and stiff armed opponents left and right. Javian did not just do damage on the ground. The freshman recorded three catches for 70 yards and two touchdowns, making it a three touchdown game. Javian now has eight touchdowns on the season (five rushing, three receiving).
Like Javian, Tyler Cordero recorded two touchdowns on four receptions for 57 yards. Tyler also had three rushes for 17 yards.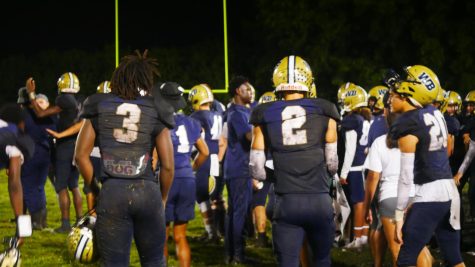 WR Ritch Dieujuste (senior), who recorded four receptions for 38 yards, scored his first receiving touchdown of the season for West Boca.
Meanwhile, Kicker Kanya Thomas (senior) made four out of his six extra-point attempts.
On the defensive side of things, West Boca swarmed Spanish River.
Sophomore Aaron Ford had a team-high eight tackles, along with Jesse Richardson's seven tackles.
Senior Chris Kelly recorded a sack and a forced fumble (Nick Widger had the fumble recovery).
Juniors Jesse Richardson and Maddox Haase both recorded interceptions. Speaking of Haase, he had a blocked punt. Cruz Baeza also had a blocked punt in the game.
Next up, West Boca will travel to Boynton Beach to face the Tigers (1-2), where former MVP and current Baltimore Ravens QB Lamar Jackson attended.