Dance Department Addition: Abbey Allen!
West Boca introduces new Dance Educator and Department Co-Director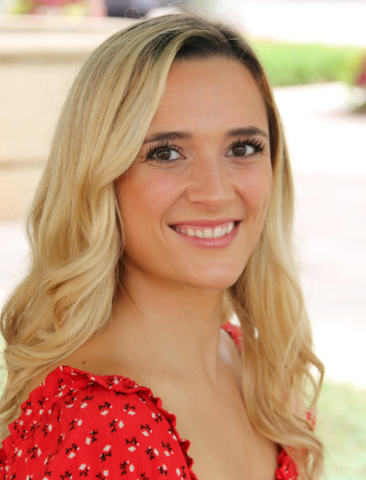 West Boca High School's Dance Department Director, Alonzo Williams, has recently introduced a member to our dance family! Abbey Allen, the new Dance Educator and Department Co-Director, will continue to drive the distinguished program- making strides in our community and impacting our students. 
Here are a few words about her from Alonzo Williams himself:  
"At a young age, Abbey Allen began her dance journey at Rochester, New York's Little Red Dance Studio. She spent years as a competitive dancer, where she trained under several world-renowned choreographers. Following her high school graduation, she decided to put her talents on full display as a professional dancer for Royal Caribbean Cruise Line. This opportunity allowed her to travel and collaborate with passionate professionals, like herself, from around the world. After years of performing, Abbey was able to leverage her professional experience and pursue a career as a teacher.
"As a teacher at Little Red Dance Studio, she discovered the beauty of inspiring young people to feel the same passion for dance that she had always felt. Abbey continued her teaching career at Arthur Murray Dance Studio and Taylor Made Dance and Theatre in Boca Raton, Florida. In addition to establishing herself as a choreographer of dance and theatrical productions, she assumed administrative roles in both organizations.
"As an instructor, she led classes in Jazz, Contemporary, Ballet, Ballroom, Tap, and other genres. Her transition to teaching has allowed her to create positive impacts on the lives of middle school and high school-level students by creating meaningful relationships as a mentor. Abbey strives to continue sharing her love for dance with the next generation of students at West Boca Raton Community High School."
Clearly, the Performing Arts Academy is thrilled to have such an accomplished addition to their staff. We look forward to seeing how Abbey can contribute to our dance community.