Everything Everywhere All at Once – A Sierra Study
The winner of multiple Critic's Choice Awards and a newly awarded Golden Globe, Everything Everywhere All at Once is now a box office hit. With nominations for Best Director, Best Picture, and Best Original Screenplay and praise for its diversity in the AAPI (Asian American Pacific Islander) community, its incorporation of immigrant family life, and creating a middle-aged superhero, this movie has moved itself onto the top charts. Initially released March 11th of 2022, Everything Everywhere All at Once is still being talked about. So me being me, of course I had to find out just what is so special about it.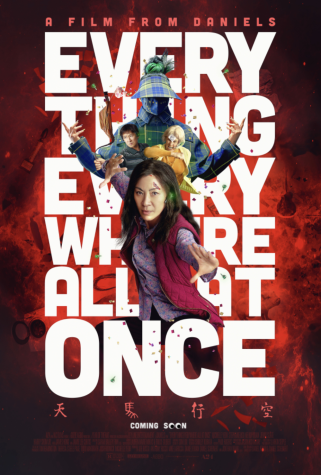 Split into three parts, Everything, Everywhere, and All at Once, brings you on a rollercoaster of emotion and thought. It tackles issues of self-love, family acceptance, and surviving life. And it even delves into the idea of nihilism, the belief that life is meaningless. This being said, you have to pay attention from the very beginning in order to understand its true purpose, because trust me, it is a unique movie. Every light, object, person, noise, and movement has its significance, and it shows in the end. The movie follows Evelyn, a middle-aged immigrant mother navigating her narrow and stressful life, as everything begins to break before her eyes. Her world on top of a failing laundromat–with an odd husband and stubborn daughter–is no more. She is gifted with powers that carry the universe, literally. 
Exploring Marvel´s claimed ¨Multiversal Theory¨, the audience is taken on a journey of a lifetime. Evelyn is taken through a mental battle of life as she harnesses powers from multiple universes. She fights unexpected enemies and rekindles her love for her family through the two and a half hour film. Following some epic fight scenes, projected memories, sausage fingers, and an all knowing bagel, Evelyn uses the universe to battle against the end, Jobu Tupaki. 
There is symbolism hidden in every aspect of this movie. From the beginning we see a family, we later identify as Evelyn, Waymond, and Joy, dancing and singing karaoke through a small round mirror in bright purple lighting. In a split second it changes to current life, with dull lights and a cluttered room, a true manifestation of Evelyn's already chaotic life. She is seen sifting through a table of receipts and divorce papers. We meet her husband, Waymond, and her daughter, Joy, as she runs through her home and laundromat, trying to take care of her father. Music builds in the background hinting at the ticking time bomb of her life. That is the introduction, not only to the movie but also to the life of the Quans.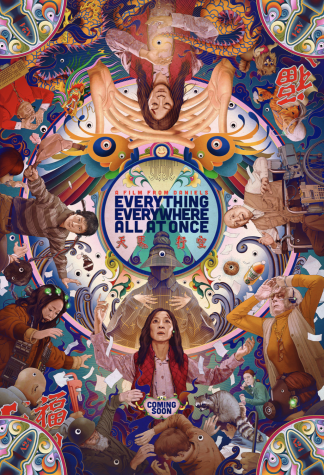 It ends as it begins, but with restored order and purpose. What is that purpose? That is for you to find out… 
I personally give this movie a fantastic 10/10. It is incredibly unique in its choices of details, including its fashion, fight scenes, and its use of odd universes. It takes a high amount of creativity to write and produce a film so complex and symbolic, that to me, a movie lover, it was a wonder. I recommend this movie to anyone who loves sci-fi, action, and good ol´ family fun.
You can find Everything Everywhere All at Once on Paramount+ and Showtime.