West Boca is a District Champion, Bulls Shutout Dwyer 6-0
Behind FAU commit James Litman's performance, the West Boca Bulls captured the district championship (6A District 13) Thursday night against the Dwyer Panthers.
Talk about domination, the No. 2 seeded Bulls blanked the No. 1 seeded Panthers at their home field.
Litman pitched a complete game shutout, pitching seven innings while allowing only four hits and no runs with 10 strikeouts.
Aden Kovacs had arguably the best game of his high school career, and it came at the best time possible. Kovacs went three-for-four at the plate with three runs.
West Boca did an amazing job at working the count. The Bulls No. 9 hitter and starting catcher, Casey Turner, drew three walks while third baseman Tyler Cordero drew two walks. Turner currently leads the Bulls with an impressive .600 OBP (on base percentage). Anytime you can get your No. 9 hitter on base, it sets up the top of the lineup for success.
USF commit Kody Morgan of Dwyer did not have much success as a starter. He pitched 3.1 innings while giving up three runs with five hits and four walks.
Kristoffer Blanks followed, also giving up three earned runs in 3.1 innings, but only allowed three hits and three walks.
The Bulls got on the scoreboard in the second inning when Derek Campbell hit an infield single. But an errant throw from the shortstop to first base sent Aden Kovacs from first to third. The first baseman followed what the shortstop did, and made an errant throw to the catcher, scoring Kovacs from third. Campbell ended up scoring as the Bulls led 2-0.
The Bulls went up 3-0 in the fourth inning after Chicho Goldstein recorded an RBI single.
In the seventh inning, the Bulls put together a three-run inning, which included a huge double from Pier Figueroa. 
Dwyer, meanwhile, had limited traffic on the bases the entire game, mainly due to Litman's nasty arsenal.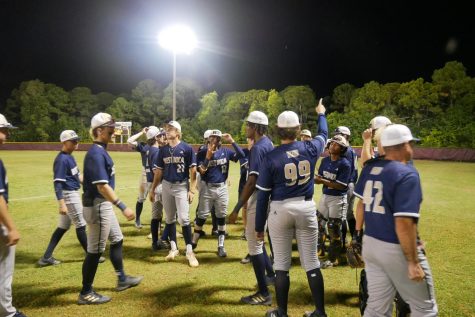 This marks West Boca's second district championship in a row. The Bulls upset Park Vista, also on the road, last year.
In other sports, West Boca soccer also won a district championship this year, and it happened to be at Dwyer against the Panthers, too. 
When I spoke to James Litman after the game, he said the following about his performance:
¨It feels great because we have a little history with Dwyer. In 2019, we beat them on this field. It feels great to come out being an underdog and beat them again on this field.¨
West Boca will now host a regional game next week. The date and opponent is TBD.