It was a very lopsided affair Thursday night when West Boca defeated the John I. Leonard Lancers 63-0 in Greenacres.
Recap
It isn't easy to shutout a team at home, but it definitely isn't easy to shutout a team on the road. However, that's what the Bulls did when they traveled to Greenacres Thursday night.
The Bulls put up 63 points for the first time since they defeated Olympic Heights 77-3 in 2014.
Led by Javian Mallory's three rushing touchdowns and some amazing plays on defense, the Bulls blew the Lancers out of the water, both literally and figuratively.
On West Boca's very first offensive play of the game, sophomore wide receiver Elijah Gonzales weaved through Leonard's defense while staying inbounds along the sideline for a 45-yard rushing touchdown.
Elijah's touchdown set the tone early for the Bulls offense, as West Boca didn't look back, scoring on every single drive.
Over the course of the next two drives, Javian Mallory scored two rushing touchdowns to extend West Boca's lead to 21-0 with 11 minutes remaining in the first half.
The Bulls defense recorded their first turnover of the game when Shamauri O'Brien recovered a fumble and ran it 35 yards to the house to make it 28-0.
Mason Mallory followed by throwing his first passing touchdown of the season, a 20-yard throw to Caleb Ayala, making it 35-0. There was still six minutes remaining in the first half.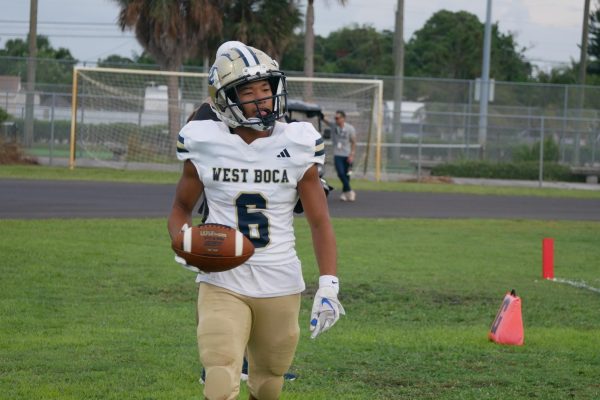 Of course, the Bulls poured on more points before halftime as Javian Mallory cashed in on his third rushing touchdown of the game, making it 42-0.
The Bulls didn't slow down in the second half, as ESPN Top 63's Maddox Haase took the opening kickoff to the house to extend West Boca's lead to 49-0.
Sorry, it doesn't end there. On the following drive, Mason Mallory threw a 30-yard touchdown to a wide-open Branden Hoch to make it 56-0. It was Mason's second touchdown on the season while Branden recorded his first.
RB Jacorrion McCrary wrapped up the scoring with a short rushing touchdown to make it 63-0, the final score.
Diving Deeper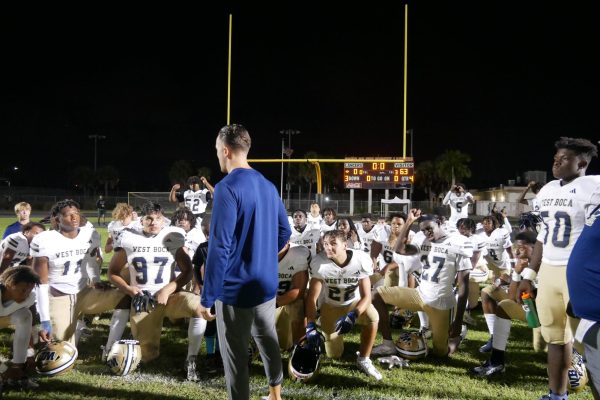 Obviously, there's a ton to digest, but it was yet another dominating performance on both sides of the ball.
On offense, everyone did their job.
One of the nation's best running backs Javian Mallory only played the first half, yet he rushed the ball 10 times for 121 yards and three touchdowns. Javian was just named to the Sun Sentinel Super 11; he is the only sophomore on the very impressive list.
On his performance, Javian said that:
"I had a good game, kind of expected that going into the week. We saw that their defense was weak so we wanted to attack the run game early and let everybody else do the rest."
Quarterback Mason Mallory only threw four passes, but completed three of them for 50 yards and two touchdowns for a near-perfect passer rating of 156.3.
On defense, the Bulls had four sacks, one interception, three forced fumbles, two fumble recoveries, and 77 total tackles.
Aaron Ford was the star on defense, recording a team-high eight tackles and a terrific interception. Demetrius Geathers, meanwhile, recorded a team-high three tackles for a loss.
The Bulls produced on special teams, too. Kicker Jayden Elder was 4-for-4 on extra points and Maddox Haase took a kickoff return to the house.
It's now two straight weeks where the Bulls defense has recorded a goose-egg. Last week in their kickoff classic, West Boca defeated Royal Palm Beach 37-0.
Coach Gamboa and Coach Yeager definitely hope to make it three straight goose-eggs next week, when they face Lake Worth on the road. The Trojans just lost to Spanish River 33-13. Can the Bulls improve to 2-0? If so, can the Bulls get their third straight goose-egg?