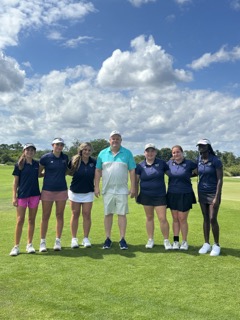 The start of the 2023-24 golf season is approaching. Our coaches for this year are… Jeff Bonina and Dave Lowenstein. Coach Bonina is not only just the girls' varsity golf coach for two years but he is also the junior varsity coach for the boy's basketball team for four years.  
Coach Bonina said that last year's girls' golf season was a success as the Lady Bulls had won districts and made it to regionals.  Lastly, Madison Lowenstein won regionals and went to states.  Coach is hoping that this year they will all be able to win district, make it to regionals, and qualify for states.  
Here is the Q&A with Coach Bonina: 
Q. What are you most looking forward to this season? 
A. Bonina is hoping that the team will compete, "they have a family atmosphere and enjoy being together. They work hard and support one another. I am looking forward to watching us compete in matches and improving our game for districts."
Q. Who are the captains this season? 
A.  Madison Lowenstein and Rebecca Kittay are the captains of the 2023-2024 season. 
Q. What is your message to your team? 
A. Each individual, team matches, and all competition requires  the top 4 scores. To advance, we need our top four girls to perform. 
---
Madison Lowenstein stated that she wanted to join the varsity girls' golf team because she's been there since she was six years old and thought it was a good opportunity to build friendships while playing golf. She first tried golf  because her brothers were playing. Madison is most looking forward to building new friendships and working hard to make it to the states. The golfer that inspired her the most is Lexi Thompson because she is a well accomplished woman's golfer and is very well driven. Some goals are being a good leader, good communication, and making states.
Rebecca Kittay stated that she wanted to join the girls' varsity golf team because she wanted to pursue something she had already loved and enjoyed. Even though golf is not always the easiest, she thought it would help her become a better golfer. Rebecca first started playing at age 6. "My grandfather had always played and had me go out on several occasions. I gained a love and passion for golf and continued to play over the years." Rebecca is most looking forward to playing and competing, working with the team, and making new friends that have a similar interest as I do. The golfer that inspires her is Mickey Wright. "I am aware that she is old, but that does not take away from her skill." She is commonly known for her record-setting play in the 1950s and '60s.  Rebecca's goals are to stay focused this season, play well, and enjoy her senior year on the team.  
Marley Asbury said that she enjoys watching golf and that is what made her want to play. Marley started playing she was 15 years old and she wanted to try a new sport. She is most looking forward to meeting new people. Lexi Thompson is a golfer that inspired her. For this season Marley wants to work hard with her communication and teamwork.  
Bella Auricchio wanted to join the team because she wanted to try something new and get the best out of my high school experience. She first started playing when she was 16. But she had gone on the driving range with one of her friends and immediately sparked an interest with golf. Bella is most looking forward to making new friends and becoming an asset. The golfer that inspired her most is Charley Hull. A personal goal is to play golf in college.
Anissa Mills wanted to join the girls golf team after watching a movie about the Greatest Game Ever Played. She was thirteen years old when I started to play golf. Anissa wanted to play golf because when she watched the movie she saw how determined Francis Ouimet was and how much he had to practice to get that far, so that motivated me to want to play. I am looking forward to lowering my numbers this season. A personal goal she has this year is to have a better mindset while playing and to shake off a bad thought I have after making a bad shot.
CJ Andino said that she wanted to join the golf team because golf is an individual sport and it will be fun to play as a team. She first started to play when she was 7 years old and wanted to get better so that she could play in tournaments. CJ is looking forward to winning as many matches as possible with her teammates and hopefully qualify for States. Lizette Salas inspires her the most because she came from a humble background and worked her way to the top. Her main goal is to play Division I golf in College and hopefully will get there by finishing at the top in tournaments.
The girls had their first match yesterday against Spanish River. They did fight but unfortunately they lost. The girls will play Spanish River again later in the season and hope that they can beat them. Their next match will be a home match at Osprey against Wellington High School, Tuesday, September 5th.. 
Captain Rebecca Kittay said, "as this is an individual sport, we do need to work together as a team to make sure we stay focused and that we aren't sitting on our bad shots.  For our team we were a little off, but we have time to make up and come back from that.  Together we worked hard and put up a fight but for the first match we didn't fight hard enough."  
Captain Madison Lowenstein said "I thought we had a good first match, we definitely have things we need to work on for our future matches.  Overall we went in there with good attitudes."
Coach Bonina "was proud of the girls how we competed and I know our team will be mentally tougher by the end of the season and be playing better. This was the first match of the season and River will be one of toughest teams we play. Our leading scorer was CJ  Andino with a 37 which is two over par. Even though we lost it was a very competitive match and both teams should be several of the better teams at the end of the season competing in districts."
"Success in this game depends less on strength of body than strength of mind and character." – Arnold Palmer