Another game, another dominating win for the West Boca Bulls.
On Friday night, West Boca traveled to Lake Worth to face the Trojans, and to say the least, the Bulls feasted, winning 51-7 behind two touchdowns from both Mason and Javian Mallory.
Recap
West Boca's defense kept the momentum from their previous game where they beat John I. Leonard 63-0. On the second play of the game, the Bulls defense forced a Lake Worth fumble.
That led to an easy 11-yard touchdown run for Javian Mallory, who recorded three touchdowns last game.
On the next drive, West Boca's defense went back to business. Sophomore Xavier Reid forced a fumble and senior Ioannis Michalakelis picked up the ball and took it 55 yards to the house. However, a West Boca penalty voided Ioannis' touchdown, but not the fumble recovery. 
So, West Boca's offense went back to work, and to no one's surprise, they scored on just one play. Quarterback Mason Mallory threw one of the best passes you'll see all season, connecting with sophomore wide receiver Kyle Andrews for a 53-yard touchdown, making it 14-0.
Mason Mallory (@mallory_mason7) throws dimes only. He connected with Kyle Andrews for a 40-yard touchdown tonight. @EraPrep pic.twitter.com/VKvf8OwH0K

— Isaac Edelman (@IsaacEdelman) September 2, 2023
West Boca added to the scoreboard in a huge way in the second quarter. Javian Mallory went untouched down the sideline for an 85-yard touchdown run, his sixth of the season (in only two games), and the longest run of his high school career. Yet again, Javian, who has offers from Georgia, Ohio State, and Miami, proves to be one of the best running back's in the class of 2026.
The West Boca defense recovered their third fumble of the game on the following drive, with sophomore defensive lineman Malique Joseph returning a fumble for a touchdown, making it 28-0.
As a result of the touchdown, the Bulls defense trotted back out onto the field, and they did their job yet again, backing up the Lake Worth offense, forcing a punt at the Trojans' own five-yard line. Lake Worth decided to take an intentional safety on the punt, extending West Boca's lead to 30-0.
West Boca ended the first half in style as Mason Mallory connected with Branden Hoch for a 30-yard touchdown. It was yet another accurate dime from the sophomore quarterback, and an amazing diving catch for the junior wide receiver, his second touchdown of the season.
What a throw. What a catch. Mason Mallory (@mallory_mason7) and Branden Hoch (@HochBranden) made this touchdown look easy in West Boca's 51-7 win. @EraPrep pic.twitter.com/JTn1QNXpab

— Isaac Edelman (@IsaacEdelman) September 2, 2023
The Bulls showed no mercy in the second half. On the opening kickoff, Caleb Ayala weaved through Lake Worth's special teams unit, taking the return 77 yards to the house. West Boca now led 44-0.
On the next drive, West Boca's defense allowed their first points of the season, as Lake Worth scored a short rushing touchdown to make the score 44-7. This ended West Boca's defensive streak of allowing zero points. The Bulls defense gave up no points in their kickoff classic against Royal Palm Beach, and in last week's game against John I. Leonard.
The final score of the game came just as the clock hit zero. Freshman Billy Clancy III recorded his first-ever touchdown at the high school level, wrapping up a 51-7 win for the Bulls.
The Bulls are now 2-0, while Lake Worth moves to 0-2 on the young season.
It's only been two weeks, but West Boca has surely spent a ton of time in the end zone. And expect it to continue. Head coach Dylan Potts is building a tremendous program, and it starts with team chemistry and a ton of depth, something the Bulls have.
Next Up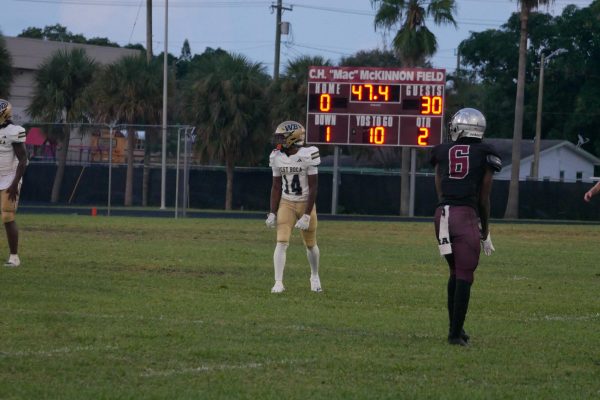 West Boca is back at home for the first time this season on Friday night. The Bulls are set to play in their biggest game of the season with a matchup against the 2-0 St. Andrew's Scots. A massive crowd is expected as the two Boca Raton schools go head-to-head under the Friday Night Lights.
St. Andrew's beat West Boca 42-7 last year, but the Bulls now seek revenge.
West Boca is much improved this season, and the Bulls stack up nicely against the Scots, making it New Era Prep's game of the week.
If you aren't bought into West Boca's culture yet, no worries. It's true: West Boca hasn't played talented teams yet. But after Friday night's game, fans across Palm Beach County will get a good taste of what West Boca and St. Andrew's have to offer.
St. Andrew's has an extremely talented receiver in Teddy Hoffman, who had 11 catches for 164 yards and three touchdowns last week in a crazy overtime win against King's Academy. But if West Boca can figure out a way to shut down Hoffman, the Scots are in trouble, because their defense won't be able to stop the incredible Bulls offense.
If you still can't figure out why this matchup has a lot of hype, there is a lot at stake in terms of rankings, as you can see in the below tweet.
561 Power Rankings: Week 1

💻-@clarasales04
📸- @Shotby_Dan pic.twitter.com/2tOOnqVwV9

— New Era Prep (@EraPrep) August 29, 2023
So, we shall see what happens next Friday night. Expect a high-scoring shootout, with Teddy Hoffman and Javian Mallory putting on yet another show.