Black Adam Strikes Theaters October 21st! Here's What You Need To Know Beforehand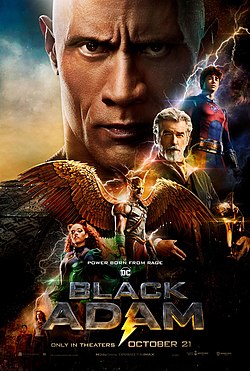 As Black Adam's release date approaches, here are some things to know about him.
Comic Book Origin
In Shazam! Vol 1, reveals the origin of Black Adam. Black Adam was a slave. His only living family was his nephew, Aman. During an attempt to rescue his nephew, Adam was severely injured and told his nephew to leave him behind, but Aman remained by his side. At this time, Aman and Adam were transported to the Rock of Eternity by the wizard Shazam. He granted Aman his powers, which Aman shared with his uncle to save his life. Once they were transported back, they had an argument about how they should use their powers. Unable to agree, Adam stole his nephew's power, then killed him. Due to this heinous act, the wizard Shazam banished Black Adam to far-off space for 5,000 years.
What To Expect
You should expect Dwayne "The Rock" Johnson to bring out both sides of Black Adam. An anti-hero who wants peace and justice and will do many heinous acts to achieve it. Anti-heroes are people who do heroic acts or have heroic purposes, but their method is oftentimes questionable. Some other notable anti-heroes are Cat-Woman, Winter Soldier, Wolverine, and Morbius (check out our Morbius preview: Everything You Need To Know and review).
Do you need to watch Shazam before watching Black Adam?
From what the trailers convey, it seems like Black Adam will not be directly connected to Shazam as it will be a spin-off from the movie.
Will it be different from the comics?
It can be concluded that the movie will differ from the comics. The trailers revealed that his son sacrificed himself for Adam and that the soldiers killed Adam. It also mentioned that Black Adam was in some sort of induced sleep for 5,000 years.
Who is in it?
Black Adam will be played by Dwayne "The Rock" Johnson. Noah Centineo, most known as the love interest in "To All The Boys I've Loved Before," will play Atom Smasher, a superhero who is able to change his size. Playing a lord of order with the Helmet of Nabu in control, Doctor Fate is Pierce Brosnan. Viola Davis will play the hardened Amanda Waller. Aldis Hodge will play Hawkman. Sarah Shahi will play Isis, who has been depicted as Black Adam's wife in the comics. Jennifer Holland will play Emilia Harcourt who is also pictured in the HBO Max series, "Peacemaker". And there are also rumors of Henry Cavill appearing in Black Adam as the man of steel, Superman.
What are Black Adam's powers?
Black Adam has a range of powers that are similar to those of Billy Batson (a.k.a. Shazam). They consist of superhuman endurance, self-sustenance, superhuman speed, flight, superhuman strength, superhuman knowledge, electrokinesis (ability to control lightning), and invulnerability.
Black Adam comes out on October 21st; check your local theaters for the available dates and times.