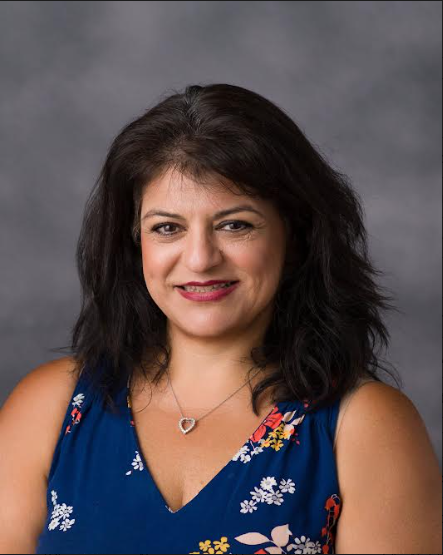 For today's teacher spotlight, the Bullseye wanted to formally introduce Mrs. Diana Rizzo, West Boca's new Chemistry, AICE Marine Teacher, and Save the Ocean Club Sponsor.
Mrs. Rizzo is a New York born Colombian, but she moved to Broward County at the young age of four, so she considers herself a Floridian. Before joining the teaching staff here at West Boca, she previously taught at Cardinal Gibbons High School in Fort Lauderdale. Mrs. Rizzo is married with three children, one boy and two girls. Her youngest daughter is a current Freshman at the University of Central Florida. Her favorite things to do, besides teaching, are traveling, cooking, and relaxing outdoors. She is currently working on getting her Masters degree in Education with a focus on Chemistry, and plans to officially graduate next year. 
This is Mrs. Rizzo's 28th year teaching. Her favorite school-related subjects are science and mathematics. She says, "my favorite courses in college were, astronomy, anatomy, and technology for education. Currently I am enjoying all my chemistry courses at the masters level, but I don't have a favorite."
When asked about her favorite thing about teaching, she mentioned how her "favorite thing about teaching is working with the students. Chemistry is usually not a student's favorite class, so I like to show them how chemistry relates to their everyday life, such as in cooking. Seeing the student engage in class and learn something new is always my favorite part of teaching. I also enjoy seeing or hearing from students, when they go to college and later in their lives."
She continues by speaking on how "throughout my years of teaching, I have been fortunate to have opportunities to teach many different disciplines in science, but my favorite was chemistry, because almost everything we do is related to chemistry.  So I was excited when I saw a chemistry position available at West Boca. I came to West Boca because they had a great science department and I was looking for new opportunities and to work with a positive group of teachers."
We are so excited to have Mrs. Diana Rizzo teaching with us at West Boca this school year. If you see her around, please give her a warm welcome!