Astroworld 2021 Tragedy
Festivals and concerts are supposed to be a place full of fun, cheering, and good music. That's what people expected when they bought their tickets and arrived at Astroworld Festival 2021. Instead, people left this festival with the opposite. People left with injuries ranging from minor to severe; lasting trauma, unconscious, and some never got the opportunity to leave at all. Ten people lost their lives due the concert; Mirza Baig, 27, Rodolfo Peña, 23, Madison Dubiski, 23,  Bharti Shahani, 22, Franco Patiño, 21, Axel Acosta Avila, 21, Jacob Jurinke, 20, Brianna Rodriguez, 16, and John Hilgert, 14, Ezra Blount, 9. Others were hospitalized with life-threatening injuries, and it is unknown if they will make it out.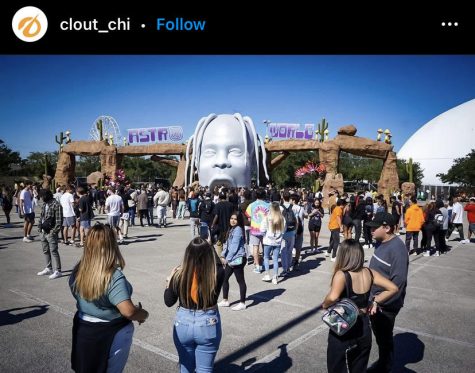 It started off with excitement in everybody's eyes and jitters in their toes. They couldn't wait to see their favorite rappers perform. But, while time ticked by and it got closer to the performance, things started to go wrong. On Friday, November 5th, at 2pm, a stampede of concertgoers burst through the VIP security checkpoint. About 50,000 people were there. Some time after this, the Houston police chief, Troy Finner, reported that he had spoken to Travis Scott to express his concerns about safety at the festival. He had requested the rapper work with law enforcement as well as being mindful of him and his team's social media presence during this time. Throughout the day until 8:30pm, other rappers performed. At 8:30pm, the timer started counting down to when Travis Scott was set to appear on stage. People were being pressed up against each other as they started pushing. The air became thinner and people started struggling to breathe. There were reports of a few people passing out as a result of these circumstances.
At 9pm, Scott took the stage. It only got much worse from there. People were packed in extremely tightly. People struggled to breathe and many witnessed people passing out all around them. Concertgoers have reported never being so scared in their lives, because if they'd fallen they truly believed they never would have gotten up. At 9:30pm, officials started to receive reports that people were collapsing, and there were so many reports that they requested additional resources at the scene. The law enforcement attending had immediately started going to Scott's team, informing them that people were "going down". At 9:38pm, it was said to be declared a "mass casualty event." Still, the rapper kept the concert going. People screamed and shouted as loud as they could, but it seemed like nobody could hear them. Even between songs, concertgoers shouted their heart out,, but they may as well have been shouting into a void. At 10pm, Drake and Travis Scott were performing together on stage while fans were begging and pleading to stop the show. People littered the ground and CPR was being performed on multiple victims as more people panicked and fell. Around 10:10pm, finally, the concert ended because Scott had played his whole set.  For victims, however, the nightmare was far from over.
The Astroworld Festival left so many fans and attendees traumatized. One notable girl, Seanna Faith McCarty, was the girl that blew up on the internet for climbing the ladder up onto the stage and heart-wretchedly screaming, "There's someone dead in there! There's someone dead! Someone died!" Others behind her shouted, "Stop the show!" over and over and over again along with hundreds of others from the crowd. After the concert, Seanna Faith McCarty had come to Instagram with her traumatizing experience. She shared how her and her friend were ripped apart, while people all around them were collapsing and screaming to security for help.
She states, "I saw terror in every eye I met, even the ones that told me to breathe and stay calm. We knew there was a very big chance some of us would not make it out alive." She then describes being pushed all over by the crowd, having no control. The thing that really stuck with her though, was when she saw the body of a man below her. "His face below mine", she says, "I lost it. There were people below the ones I could see from above. There was a floor of bodies, of men and women, below two layers of fallen people above them… I saw his face. I became a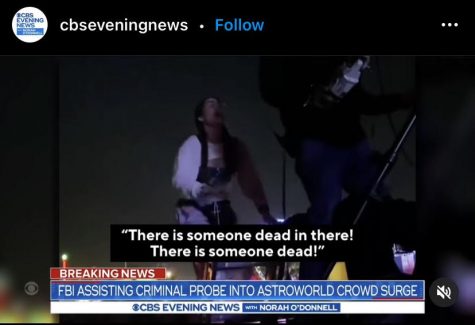 shield for him". This experience really stayed with her and I'm sure, will stay with her and all the other attendees for a long, long time. Many people had similar experiences and our thoughts and prayers are with them.
Travis Scott is dealing with more than one lawsuit after at least 10 people were killed and hundreds injured in a crush at his Astroworld Festival. The lawsuits consist of allegations that Scott and surprise performer Drake incited the crowd, and that concert manufacturer Live Nation did not offer good enough protection measures. The rappers and Live Nation have not responded directly to the suits. The surge started when panic broke out as the crowd pressed towards the front of the stage all through Scott's set. In a statement posted to Twitter, Houston police leader Troy Finner stated he met with Scott and his head of protection "for some moments" previous to the event to express his concerns about safety.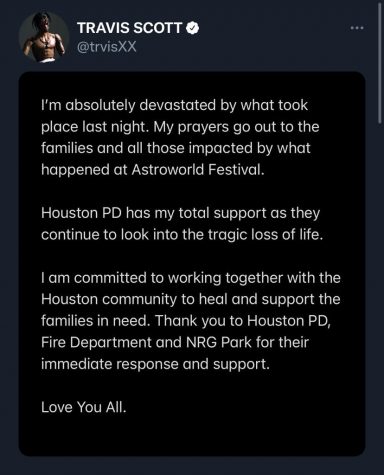 Those liability waivers you sign when buying a ticket to a festival saying you "assume the risk" and "it's your responsibility if something happens" do not apply. Festival organizers still have a legal duty to keep you safe from the moment you enter that festival. It means adequate security, adequate crowd control, and access to medical services at a bare minimum. Houston-based attorney Tony Buzbee announced on Monday that his firm was filing a lawsuit on behalf of 35 plaintiffs over the "gross negligence" that caused the tragedy. Mr. Buzbee stated the lawsuit came against Scott and the event's promoters and management. Among those represented by Mr. Buzbee is the family of Axel Acosta, a 21-year-old from Washington state who died in the stampede.
Another suit filed by 23-year-old attendee Kristian Paredes accuses Scott and Drake of inciting "a riot and violence," and claims the venue and Live Nation did not offer good enough safety and clinical services. The suit, seeking $1 million in damages, says Mr. Paredes "felt an immediate push" at the front of the general admission section, before "the crowd became chaotic and a stampede began". "Many begged security guards hired through Live Nation Entertainment for help, however they were ignored." Mr Paredes is described as having suffered "severe bodily injuries." Scott, Live Nation and concert promoter Scoremore are also named in another suit seeking $1 million in damages for Manuel Souza. Mr Souza is described as having suffered "severe bodily injuries" when the uncontrolled crowd at the concert knocked him to the floor and trampled him." These are a few of the many lawsuits filed upon this tragedy.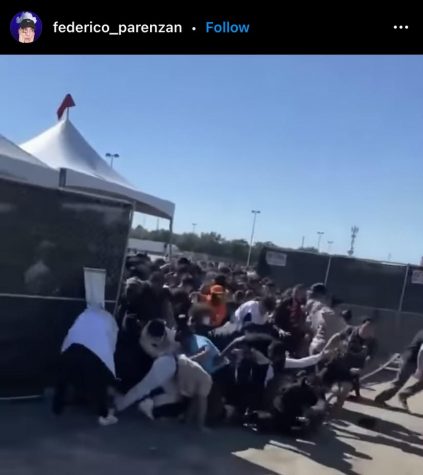 Travis Scott unfortunately has a record of riling up his crowds, and promoting this extremely dangerous behavior. In his apology, Scott appeared shocked over this horrific outcome of his concert. "I could never imagine anything like this just happening," Scott stated in part of the Instagram video apology. But his track record tells a different story, which started with the Lollapalooza incident in 2015, when Scott encouraged fans to climb over security barricades and onto the stage. This ended with him getting arrested, and hundreds of people getting hurt. In April of 2017, Scott encouraged a fan at a show in New York City to leap from a balcony into the crowd. "They will catch you" was the last thing Scott said as the fan jumped, causing severe injuries and months of being in the hospital. A month later, he was arrested after a show in Arkansas on suspicion of inciting a riot. Even Scott's 2019 Netflix documentary confirmed the danger of attending his shows. But for the first time Friday, fans didn't come home from one of his concerts. People lost their lives to this horrible tragedy, and it's time for people to start taking accountability. With this history, police and his entertainment company should've never let his reckless behavior get in the way of safety at his events.
In the wake of this tragedy, realizations and new priorities are shown. Performers and everyone behind them need to take a step back and think about their fans. People pay so much money to attend these concerts and the least that could be done in return is ensuring their safety. Our hearts here at West Boca High School go out to all of the victims and their families, and will continue to support in the fight for concert safety.