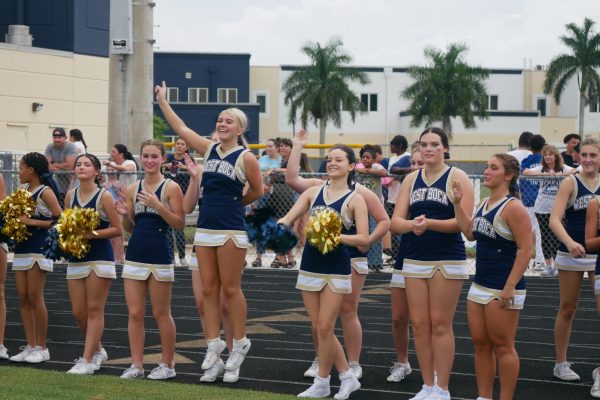 Under the Friday Night Lights and in front of a huge crowd, West Boca defeated Royal Palm Beach 37-0 in the Kickoff Classic.
The Bulls Are Continuing to Dominate
Coming off a 6-4 season, the Bulls have a ton of hype surrounding the program, thanks to the mastermind behind the team's success: head coach Dylan Potts.
Coach Potts's team is already off to a great start as the Bulls recorded six turnovers and four rushing touchdowns to beat Royal Palm Beach 37-0. So, the hype must be real.
In his first game at West Boca, sophomore Xavier Reid put on a show, recording three sacks and two tackles for a loss. Every single play Xavier was in the backfield putting pressure on Royal Palm quarterback Landon Earl.
Meanwhile, Shamauri O'Brien, Jaydin Broadnax, and Maddox Haase recorded huge interceptions to secure a goose-egg (allowing zero points) for the Bulls defense. Demetrius Geathers also had a huge sack in the end-zone resulting in a safety, one of two on the night. How many times do you see two safeties in a football game?
Jaydin Broadnax (@jbroadnax_5) recorded an interception in West Boca's 37-0 win. Elite defense ❌ @EraPrep @WestBocaBullsFB pic.twitter.com/6vfbjp7Bjb

— Isaac Edelman (@IsaacEdelman) August 19, 2023
Junior Cruz Baeza, who led the team in tackles last season, had five solo tackles, one forced fumble, and one fumble recovery.
A ton of credit has to be given to defensive coordinator Herbert Gamboa. Coach Gamboa's defense allowed zero points, something we have seen before – the Bulls had three goose-eggs last season.
On the offensive side of the ball, the running game was cooking. Elijah Gonzales, Javian Mallory, Jacorrion McCrary, and Jayden Lockhart all scored rushing touchdowns. Gonzales could have had a second rushing touchdown but it got called back due to a holding that honestly didn't affect the result of the play. While the play ultimately didn't count, Gonzales showed his elite speed while turning on the jets.
https://twitter.com/IsaacEdelman/status/1692746544674435226?s=20
The Bulls combined for 307 rushing yards, led by Mallory's 110 yards on 14 carries. McCrary also had 73 yards on eight carries.
Too easy for one of the nation's best running backs in Javian Mallory (@mallory_javian3). @EraPrep @WestBocaBullsFB pic.twitter.com/fGxn7xjcM9

— Isaac Edelman (@IsaacEdelman) August 19, 2023
The key takeaway from West Boca's running game Friday night was that there are other players outside of Javian Mallory that can contribute on the ground. When many people think of West Boca, they think of Mallory, one of the nation's best running backs who already has an offer from Georgia. But what teams don't know, at least yet, is that West Boca has depth at the running back position. Both McCrary and Lockhart are true freshman, and I am sure they will learn a lot behind Mallory.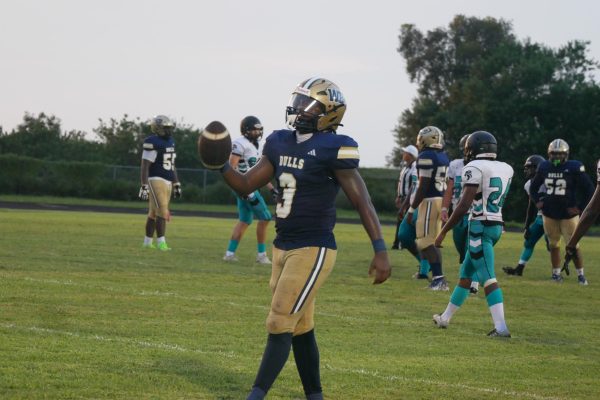 West Boca combined for 204 passing yards with contributions from starting quarterback Mason Mallory and backup quarterback Trey Moran, the son of former West Boca head coach Alphonso Moran.
Branden Hoch had a great game receiving in his first game as a Bull, recording 73 receiving yards on four receptions. Gonzales had two receptions for 55 yards.
Head Coach Dylan Potts gave credit to the offensive line after the game, stating "when you are able to get that push up front, it makes it easy for those guys behind them."
Next Up
The Bulls will have their first game of the regular season when they travel to Greenacres to face the Leonard Lancers next Thursday night. Last season, West Boca defeated John I. Leonard 34-0.